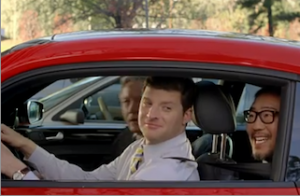 Volkswagen debuted its new Super Bowl ad on CNN ahead of Sunday's big game and it's already drumming up plenty of controversy. The ad ("Get In. Get Happy.") features a white office worker who helps his colleagues deal with a downer Monday by channeling an easy-going Jamaican vibe as reggae star Jimmy Cliff covers The Partridge Family theme song in the background.
Tim Mahoney, chief marketing officer for VW, joined Soledad O'Brien on CNN's Starting Point to show the ad for the first time and defend its use of a racial and cultural stereotype. After showing the one minute ad in full, O'Brien asked Mahoney, "You take some risks in that, right? You start with a white guy and the Jamaican accent… I have to say that I love it, but my first take at the beginning was like 'hmm' with the Jamaican accent."
Mahoney defended the ad by saying, We obviously did our homework to make sure we weren't offensive. So we did some research to make sure we weren't going into a direction we didn't want to go." He added that the company did test the ad with "actual Jamaicans" and implied that Jimmy Cliff's involvement should shield the ad from cries of racism.
The segment ended with a tossed-off remark by panelist and New York Times columnist Charles Blow, who said the ad did not sit right with him. "I don't like it at all," Blow said. "It's like blackface with voices."
The ad is costing VW $7.6 million to show during Sunday's Super Bowl, but by debuting it on CNN and posting it on YouTube, where it has racked up over half a million views in less than a day, the company is using the inherent controversy to maximize the ad's reach before it ever runs as a paid advertisement.
Watch video below, via CNN:
—
>> Follow Matt Wilstein (@TheMattWilstein) on Twitter
Have a tip we should know? tips@mediaite.com