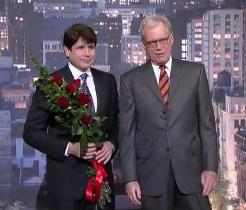 Before former Chicago Governor Rod Blagojevich begins his run on NBC's reality show Celebrity Apprentice, he stopped by CBS' Late Show with David Letterman for some cross-network promotion.
Blago got his shot at Letterman's top 10 list – "questions asked himself before appearing on Celebrity Apprentice."
There were a lot of hair jokes (actually 40% of the top 10 related to hair) and the required shots at Celebrity Apprentice host Donald Trump…and his hair. Here were the top three most funny jokes in the top 10:
• #8: Should I bring my attorney?
No word if Blago brought his attorney to Letterman, but he did bring his publicist. His publicity agency live-tweeted the whole appearance, complete with attempts to get #Blagojevich to become a trending topic, photos and videos of Blago signing autographs, and tweets like this: "Top Ten really funny. Gov was relaxed, poised and delivered Top 10 flawlessly."
• #6: Is there any chance NBC will replace me with Leno?
Letterman has continued his subtle jabs at new old nemesis Jay Leno and this one was predictable. Still, any shot we see Blago showing up on the Tonight Show soon? He may get a chance to fire a parting shot back at the CBS host. And finally…
• #2: How come I'm not a Governor and Paterson is?
And there's the Gov. David Paterson joke. Remember David Paterson? He's the New York politician who was having all those problems before another New York politician came along and all we did was talk about tickle fights.
Check out the full segment:


—–
» Follow Steve Krakauer on Twitter
Have a tip we should know? tips@mediaite.com