Bob Schieffer And Santorum Clash Over His Belief That Prenatal Care Leads To Abortions
Schieffer And Santorum Clash Over His Belief That Prenatal Care Leads To Abortions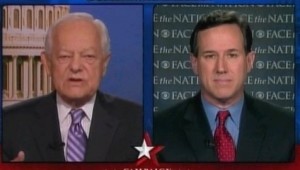 During a recent campaign stop, Rick Santorum brought up the inclusion of prenatal care in the Affordable Care Act, and made a bold proclamation that giving women prenatal care leads to more abortions. On Face the Nation today, Bob Schieffer challenged Santorum on his assertion, asking him if what he was saying is fundamentally unscientific and against what the majority of doctors would advise.
RELATED: Piers Morgan To Rick Santorum: 'Does Rick Santorum Like Women?'
Schieffer asked Santorum to clarify his remarks, because many people see prenatal care as having less to do with abortion and more to do with the general health and well-being of an expectant woman. Santorum argued that most prenatal testing is done to identify deformities in utero, and so he doesn't have an issue with overall prenatal care. However.
"I didn't say prenatal care shouldn't be covered. We're talking about specifically prenatal testing and specifically amniocentesis, which is a… procedure that creates a risk of miscarriage when you have it and is done for the purposes of identifying maladies of a child in the womb, which in many cases, in fact, most cases, physicians recommend, particularly if there's a problem, recommend abortion."
Santorum got emotional as he explained how his child was diagnosed with trisomy 18, a genetic disorder caused by the presence of an extra chromosome in the cells of an infant, and in most scenarios, children with that disorder are encouraged to be aborted. Schieffer pointed out that Santorum also had a child that was still-born, meaning it died in the uterus, but Santorum interrupted to note the baby was alive for two hours before passing away.
RELATED: MSNBC Contributor Eugene Robinson On Rick Santorum's 'Weird' Reaction To Death Of Newborn
Schieffer shifted back to asking Santorum if he would prevent all mothers from getting prenatal testing. Santorum did not go that far, noting that sonograms are important for a pregnant woman to get, but he did say women should not be "forced" to undergo every single test. He went after Obama for his support of partial-birth abortion.
Watch the video below, courtesy of CBS:
Have a tip we should know? tips@mediaite.com
Josh Feldman - Senior Editor