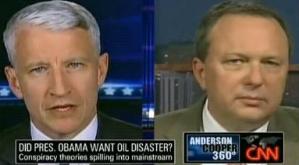 After Press Secretary Robert Gibbs attacked Fox News for providing a platform for former FEMA director Michael Brown and his 'White House wanted the oil spill' theory.
Well it didn't take long for Brownie to complete the cable news Full Ginsburg – he was on MSNBC with Chris Matthews and later with Anderson Cooper on CNN. Here's how the CNN interview went.
In his "keeping them honest" segment, Cooper aired a pre-taped interview with Brown, in which he allowed the FEMA director during Katrina to expand on his conspiracy that Pres. Barack Obama wanted the spill (but not the ultimate scope and ensuing damage), while also holding his feet to the fire to produce some evidence of the claims. It was one of the major criticisms Gibbs had of Neil Cavuto's FNC interview – although the other major criticism was having Brown on at all, and obviously CNN and MSNBC provided the platform as well. "What evidence do you have of that?," asked Cooper early in the interview. "As a former government official, I would think you'd choose your words carefully, what evidence do you have this is basically a plot to shut down oil?"
Here is Brown's new, hedged answer: "Nobody, including the President, wants the oil to spread into the wetlands or around the coast. I said it would. They want to use the crisis."
Cooper pressed back. "You can argue he wants extreme stipulations on it but again you haven't provided any evidence and in fact you're now denying a statement you made yesterday," he said.
But right at the end of the interview, Brown introduced a new theory – this oil spill is like Katrina, because the President in each situation was such a failure. Yes, Brownie blasted George W. Bush:
What were they doing in the meantime? They left the Coast Guard out there without the additional resources that the Coast Guard, needed just like President Bush left me down in Katrina without the additional resources that I needed, because they were dilly-dallying around back in Washington D.C.
Whoa Brownie. Heckuva job introducing the next storyline that will get you back on cable news today.
Here's the Cooper interview:

—–
» Follow Steve Krakauer on Twitter
Have a tip we should know? tips@mediaite.com