Candidate Questioned by Secret Service After Writing About Obama: 'Shoot the N*gger'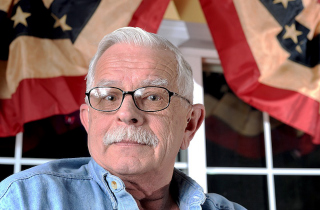 A Maine man was recently questioned by Secret Service officials after he posted an article about President Obama to Facebook with a potentially threatening message written above the photograph.
The Associated Press reported this week that 68-year-old Sabattus resident David Marsters was under investigation for posting a link last Friday to an article about Republican lawmakers seeking impeachment of Obama with a comment from the man that read: "Shoot the nigger."
Marsters, who is active in local politics and a candidate for town selectman, was reportedly questioned at his local police station for an hour. The Facebook post in question below: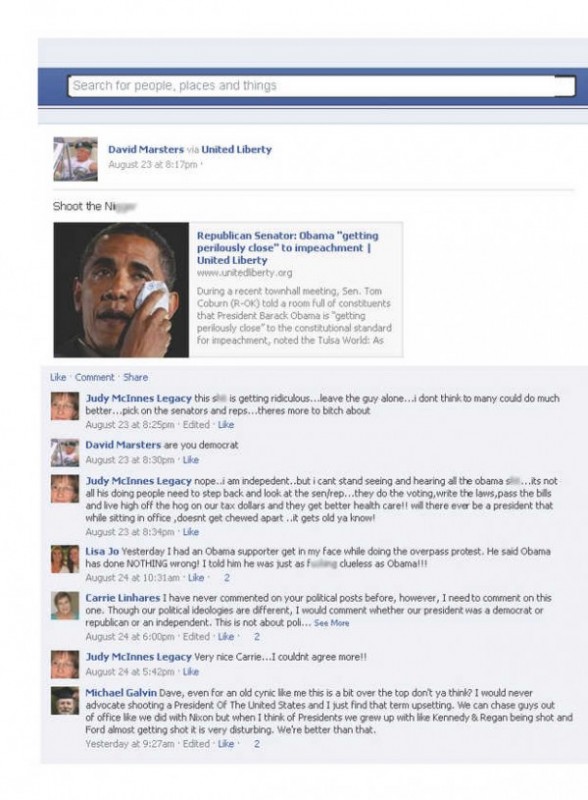 In an interview with the Portland Press Herald, Marsters called the entire ordeal "a load of hogwash," telling another local paper that his words did not amount to "a threatening statement, in my opinion. People take it out of context as a threat."
"I didn't say I was going to shoot the president," he added, explaining that he's simply "pissed off at the system" because "we're about to lose our [health-care] benefits because of this asshole." Marsters was referring to his fear that the president may suspend spousal benefits for health-care, which would affect his recently-hospitalized wife.
In the Facebook comments, Marsters also alleged that Obama is not a "legal president," suggesting his birth certificate was forged. However, he explained in an interview with Bangor Daily News, he'd have written "shoot the nigger" even if Mitt Romney were president.
"I apologize for what I said; that's all I can say," Marsters told BDN. "I did it out of frustration against the man."
UPDATE: Distraught that one of their posts was shared by Marsters while making the racial slur, libertarian-leaning site United Liberty released a statement distancing themselves from the "crazy people on Facebook":
It has been brought to our attention that someone "shared" a post from United Liberty's Facebook account. This person used very hateful, very threatening comments on their own separate account.

Obviously, United Liberty does not condone such comments or behavior. As libertarians we do not believe that violence or racism has any part in a constructive political debate. Although we disagree with President Barack Obama on many aspects of public policy, that has nothing to do with race.

The United Liberty team has staff dedicated to meticulously combing through all non-staff posts on our Facebook and our website and removing all posts or comments that contain this sort of offensive message, a practice that we began at our inception.

While we cannot control what groups or individuals do or say outside of our own Facebook page and website, we do regret that our content was used in such a hateful manner.
Watch a report below on the story, via WMTW-TV:
[h/t HuffPost]
[photo via Lewiston Sun Journal]
— —
>> Follow Andrew Kirell (@AndrewKirell) on Twitter
Have a tip we should know? tips@mediaite.com