Charles Krauthammer To O'Reilly: If Election Were Held Tomorrow, Obama Would Win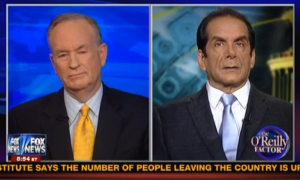 Charles Krauthammer paid a visit to Bill O'Reilly on Tuesday night to discuss how President Barack Obama and Mitt Romney are currently faring among certain key demographics. Obama's negative campaigning is proving successful, Krauthammer observed, concluding that were the election to be held tomorrow, Obama would win. But, he underlined, the circumstances can change from now until November.
Krauthammer pointed to Obama's strong voter base in the black and Hispanic communities, and well as among young voters, and argue that voter turnout will be depressed. Though the ratio will probably remain the same, he said, there will be lower turnout. Some of "those who swooned in the aisles, some of them are going to stay home because they know the reality of what Obama wrought."
Furthermore, Krauthammer argued the Obama campaign played to women (as a voting bloc) well — but only because appeasing certain demographics is the only way he can win them over. "His campaign is based on one idea," he said. "You go out and you try to seduce one ethnic or socioeconomic or gender constituency after another. Because you can't run as a national candidate who has improved the country."
Toward the end of the segment, O'Reilly posed his final question: If the election were held tomorrow, who would win? Obama, Krauthammer replied. The margin would be narrow, he added. "If he wins either now or November in your hypothetical, it will be a narrow win because he will eke it out with his constituencies," Krauthammer asserted.
He then went on to explain why he said Obama would win tomorrow, hypothetically: In all the current polls, Obama averages a 2-point lead in the popular , and it's "almost inconceivable that you would have that strong an excess in the overall vote and lose in the Electoral College." But that can change, he noted:
I think all this negative stuff against Romney has had an effect of making people hesitant to switch from Obama to Romney. I think if Romney humanizes himself in the debates and does reasonably well, the way Reagan did in his debates, and become acceptable to meet the threshold for president, he wins.
Take a look, via Fox News:

Have a tip we should know? tips@mediaite.com