Chris Christie Praises Obama's Hurricane Sandy Response, Scoffs Idea Of Mitt Romney NJ Visit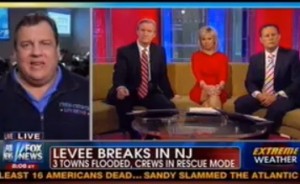 The nation's attention has turned from the presidential election to the devastation wrought by Hurricane Sandy, but increasingly, those two events have begun to intersect. Even as Republican candidate Mitt Romney faces renewed scrutiny of his disaster-management policies, Republican New Jersey Governor Chris Christie has brought the practical consequences of disaster politics into sharp relief. In an appearance on Fox and Friends Tuesday, Christie scoffed at the idea of a now-scrapped plan for Romney to visit Sandy-ravaged New Jersey, and effusively praised President Obama's response to the disaster.
Asked about the possibility of Gov. Romney's then-planned trip to survey the damage in the Garden State, Gov. Christie responded, "I have no idea, nor am I the least bit concerned or interested. I've got a job to do here in New Jersey that's much bigger than presidential politics, and I could care less about any of that stuff."
Later in the interview, he praised the federal government's response, and President Obama, specifically. Christie said that the President's federal disaster declaration "helps us tremendously," and that he told the President "if you could expedite designating New Jersey as a major disaster area, that that would help us to get federal money and resources in here as quickly as possible to help clean up the damage here."
"The President was great last night," Christie continued. "He said he would get it done. At 2 a.m. I got a call from FEMA to answer a couple of final questions, and he signed the declaration this morning. So I have to give the President great credit. He's been on the phone with me three times in the last 4 hours. He's been very attentive, and anything I've asked for, he's gotten to me. So I thank the president publicly for that. He's done, as far as I'm concerned, a great job for New Jersey."
Here's the clip, from Fox and Friends:
Christie didn't stop there, though. As The New Yorker's John Cassidy points out, Gov. Christie has been evangelizing for Obama all over the dial:
Appearing on the networks this morning, Christie, for the third day in a row, heaped praise on Obama's handling of the storm. "The President has been outstanding in this," he told the "Today" show. On "Morning Joe," he said, "It's been very good working with the President. He and his Administration have been coordinating with us. It's been wonderful." Speaking on CNN, Christie said that he had been mightily impressed by Obama's accessibility throughout the crisis. "He gave me his number at the White House, told me to call him if I needed anything, and he absolutely means it." Christie also pointed out that Obama didn't once bring up politics in their conversations, and added, "If he's not bringing it up, you can be sure that people in New Jersey are not worried about that, primarily if one of the guys running isn't."
Cassidy notes the overkill, and imagines the Romney campaign wondering just what is up with this.
It's probably waaay beneath Chris Christie to play politics with a hurricane, but this praise for the POTUS does burnish Christie's straight-talkin' image at a time when every general election voter is watching, while making Mitt Romney, whose defeat would make a Christie 2016 run possible, look horrible. A cynical person might think something.
(h/t Rebecca Schoenkopf)
Have a tip we should know? tips@mediaite.com