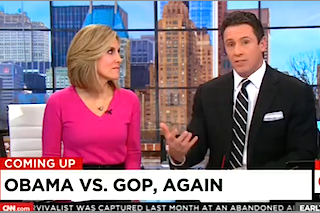 Three years ago, CNN reported that the American Heritage Dictionary has reclassified the term "anchor baby" as "offensive," saying it is often "used as a disparaging term for a child born to a noncitizen mother in a country that grants automatic citizenship to children born on its soil, especially when the child's birthplace is thought to have been chosen in order to improve the mother's or other relatives' chances of securing eventual citizenship." But as of yesterday, CNN's Chris Cuomo apparently had not received the memo.
On at least three separate occasions Friday, Cuomo used the term "anchor baby" to describe the children of the nearly five million undocumented immigrants President Barack Obama plans to protect from deportation using executive orders against the will of the Republican-led Congress.
Watch three clips below, via CNN:
In each instance, Cuomo did not qualify the term by saying they are "sometimes referred to as anchor babies" as his colleague Jim Acosta did earlier that morning. When Cuomo's co-host Alisyn Camerota interviewed Jay Carney about the issue Friday morning, she noted that "many conservatives" and "many Republicans" call the children "anchor babies."
Just minutes after the third time he used the term, Cuomo was joined by Michael Smerconish to discuss the issue further and issued an apology of sorts. "This issue is called the anchor babies," he said. "I used that term this morning, I shouldn't have. It's ugly and offensive to what it is."
It appears that Cuomo, who is very engaged with both his defenders and detractors on Twitter, was reacting to criticism he had been receiving on that platform.
Friday night, he wrote this to one user who expressed outrage over his use of the word:
.@CafeConLecheGOP @latinorebels when made aware, I said on @NewDay that term is misleading and offensive and that I shouldn't have used it

— Chris Cuomo (@ChrisCuomo) November 15, 2014
When the website Latino Rebels asked why his producers did not inform him that the word was offensive, he advised them to "find real enemies":
@latinorebels @CafeConLecheGOP relax: that's the term both parties often use. I didn't make it up. And I rejected its use. Find real enemies

— Chris Cuomo (@ChrisCuomo) November 15, 2014
In a follow-up post, Latino Rebels wrote:
We will keep this simple: don't insult our intelligence, CNN. Cuomo messed up. Whoever wrote your November 14 "New Day" script messed up. Your producers messed up. And no one, no one, had the insight to take a pause and think, "Wait, maybe we shouldn't use that term in this context?" Then when you all realized that you had indeed messed up, all you share is a half-baked rationalization on air and a tweet from an anchor's profile telling us to chill.
Watch the apology video below, via CNN:
[Photo via screengrab]
— —
>> Follow Matt Wilstein (@TheMattWilstein) on Twitter
Have a tip we should know? tips@mediaite.com