Chris Wallace Talks to Mediaite About 10 Years at Fox and His Best/Worst Interviews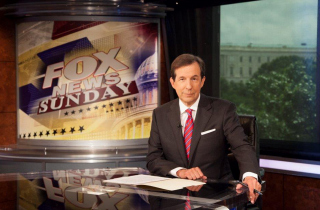 This weekend will mark Chris Wallace's 10th anniversary as host of Fox News Sunday. In advance of such a milestone, Wallace spoke to Mediaite about his time at Fox, some of his best and worst interviews, and whether Presidents Bush or Obama were a better interview. Read below.

MEDIAITE: You've made a name for yourself as being willing to skewer both sides… How do you react when people assume you're a partisan Republican because of generalizations people make about Fox?
WALLACE: Interestingly enough, even Bill Clinton made that generalization. When I asked him what I thought was a fair question, he said, "Yeah, it is, but have you ever asked it of Republicans?" It made me wonder if he'd ever watched Fox News Sunday. We really don't play favorites, we don't pull punches, and we're as tough on interviews as the others.
But because it's Fox, some outsiders see when I'm tough on republicans, and act surprised it makes news. Just in the last couple of months, I interviewed both [Obama officials] Denis McDonough and Jack Lew and I think you'd be hard-pressed to find the difference of approach between them and my interviews with Republicans.
And, quite frankly, people mix up the primetime opinion shows with our daytime news-gathering coverage. When you look at our election coverage, we always have our newspeople covering the desk — Megyn Kelly, Bret Baier, etc. MSNBC, on the other hand, had all of its opinion people anchoring the desk.
What would you say are some of the biggest moments from your first 10 years at FNS?
The biggest moment, I'd say, was that Bill Clinton interview from 2006. The deal: We'd spend half time talking about his Clinton Global Initiative, and then half the time talking anything we wanted. There had been a docudrama about the path to 9/11 which criticized him for not doing more to take out [Osama] bin Laden, and when I mentioned it, he just went off.
It was quite remarkable. I remember thinking that I was shocked he had lost his composure, and then thinking "How do I handle this? I don't want to get into a fight. And this was really great television."
I've also really enjoyed my trips to Madrid, interviewing the Spanish prime minister, or my trips to the major conventions, or my trip to Camp David when I interviewed President [George W.] Bush there.
And, of course, another huge moment was when Jon Stewart came on the program and called me insane. I wasn't looking for a confrontation. I've gone on his show maybe 4-5 times, and he likes to tweak me as if i'm some right-wing advocate. And so, when he was on, I called him a liberal advocate. He acted as though I insulted him.
We made up afterwards, though. He reached out and said there's nothing personal. And, honestly, the only thing worse than being skewered by Stewart would be not being skewered by Stewart. To some degree, it's a rite of passage.
Can you tell us some of your worst interviews? Ever encounter someone who just wouldn't break from their talking points?
I can't name anyone, obviously, but the worst interviews are those who just gives talking points. And no matter how hard you engage them, they never stray from rehearsed points. It's also bad if they take a long time to get to the point. The best guests are always those who give straight answers.
When I think of who is actually good at being interviewed, I'd say Senators John McCain (R-AZ), Lindsey Graham (R-SC), Tim Kaine (D-VA), Dick Durbin (D-IL).
I'm well-aware of the joke about McCain being overexposed on the Sunday shows, but there's a reason he's always booked. These are guys who you ask a question and they give it a straight answer. I've also always enjoyed interviewing [former Obama advisor] David Axelrod. Sure, he had spin, but he got past it really quickly. And when you give a tough question, he's not afraid to get combative.
Of the two presidents you've interviewed in office, who was more difficult to pin down? Bush or Obama?
Bush was tough to pin down for an interview. I only got one sit-down in 2008. That White House was really quite reluctant to put him on. I've interviewed Obama twice as president (but not for FNS, and once as a candidate. I think I have a reputation as a tough interview and I believe both Republicans and Democrats feel that way. Senate Minority Leader Mitch McConnell (R-KY) thinks I'm the toughest Sunday show interviewer, and he often warns Republican senators that they won't get an easy interview from me.
As for who was a worse interview, I'd say presidents always have a similar toughness about them. By the time you get to be president, you have a network of aides and advisers, you get your talking points, and regardless of whether it's a senate or presidential interview, or cabinet, I think it's one of the challenges of doing a Sunday talk show is that these guys are scripted and all have talking points. The challenge is to break through and get them to react and think and talk.
One big advantage of Sunday is the luxury of time. We have a 12-14 minute interview. So you ask a question and then you ask the follow-up. By the second or third round you can finally get them to go off the talking point.
So when you "grill" public figures, is your aim to draw out newsworthy thoughts they might not otherwise express — i.e., "good TV" — or is it simply to hold them accountable?
It's a bit of both. Here's the thing about Sunday morning talk shows: There are a lot of other things people could be doing, like reading a paper, sleeping, talking to their family. I really feel like you've got to add value for those who made the decision to watch you on a Sunday morning. There has to be a sense that it was an hour worth investing. So I hope our audience learns something and is entertained.
You want to get interesting guests on interesting subjects that affect lives. At the end of an interview, you want the audience to know more than they did going in. Part of that obviously is making news, but over the course of 10 years, my view has changed: At the beginning, I was single-minded about getting picked up by a major press outlet, being quoted in the Times or something. But now, in a more three-dimensional way, I think I just want people to learn something or have an interesting takeaway from the hour.
Do you have an interview "bucket list"? Anyone you haven't interviewed you wish you could?
I'd love to interview Pope Francis. He's the most interesting figure in the world right now. He's essentially remaking a 2,000-year-old institution and I am really fascinated with what he's trying to do and how he's opening the doors and letting the air and sunlight shine in on the institution that has previously been closed-off. If I had a single interview, I'd pick him.
Some have noted that you're not on Twitter, while most of your competition is. Why haven't you gotten on-board?
Well our show is involved on Twitter, because it's just another platform to reach out to audience. But personally, I don't see myself doing it. I simply don't have the time. I also think I owe the audience a good show, but I don't owe them what I had for breakfast.
Also, when I follow my colleagues on Twitter, I almost never see anything worthwhile. Honestly, it's just another opportunity to blow up your career.
How did being Mike Wallace's son impact you as a broadcaster, both positively and negatively?
It had a huge impact on me, overwhelmingly in a positive way. On the negative end: I wouldn't say it now, but starting out, there was the cloud hanging over me. I had to deal with the suspicion of nepotism.
But on the positive end, I've had an enormous opportunity from a very young age to meet people and be exposed to journalism. Through both my father and my stepfather Bill Leonard. My first job was at age 16 going to the 1964 Republican National Convention. Another time, through my father, I was invited to meet Malcolm X. And through my stepfather, I met Eleanor Roosevelt when I was 10 or 12 years old. The exposure was quite extraordinary.
In the professional sense, I learned a lot from my father. Watching by example, I learned there's an art of the interview; and it's something I enjoy doing. He also taught me the value of research and preparation. You always go into an interview knowing less about a subject than your interviewee — for instance, a Treasury Secretary will know more about the budget — but you can research and prepare in a way that makes it clear that they can't just come in and spin you.
Were you and your father ever competitive as journalists?
He was a famously competitive person, and as I've said in the past: At some time, someone who dealt with my father hadn't spoken with him for a while. Having said that, in the last quarter century we had become very good friends. He'd call me and critique me and I'd do the same with him.
In an industry where there's a lot of sharp elbows, all he ever wanted was for me to be the best journalist and most successful I could be. And I felt the same about him.
— —
>> Follow Andrew Kirell (@AndrewKirell) on Twitter
Have a tip we should know? tips@mediaite.com