Chris Wallace To Mark Kelly: Background Checks Wouldn't Have Stopped Shooting Of Gabby Giffords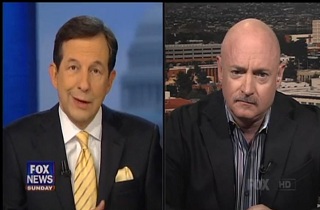 Chris Wallace challenged gun control advocate Mark Kelly, wife of former Congresswoman Gabby Giffords, on the effectiveness of expanded background checks.
Wallace noted that the laws Kelly is pushing for probably wouldn't have prevented the tragic shooting of his wife.
Jared Lee Loughner passed a background check when he legally bought the gun he would later use in the horrific mass shooting deaths of six people outside a Tucson, Arizona strip mall. Wallace noted that Loughner was suspended from his college because he was considered a threat to himself and others but was still able to buy a gun. This information never appeared in the background check he underwent.
Kelly lamented the fact that Loughner's drug use and school suspensions did not appear in the background check. "In the case of the shooter in Tucson, the information on his mental illness that caused him to get expelled from community college that should have been in the system. His admitted drug use to the US Army that rejected him should have been in the system. So he should have, if we had a system, if we improved the system, he would have been rejected from buying a gun in the gun store," he said.
He still could have bought a gun from a gun show or on the internet, Kelly noted, without a background check.
"It's a crazy system," Kelly said.
Kelly admitted, when pressed by Wallace, that the NRA is right when it comes to expanding the background check system to include more mental health records and cover more people. "They absolutely have a point. They are right on that issue. We need to encourage states to include mental health records," Kelly said.
"I would like to be able to work with the leadership of the NRA, and work with the United States Senate and the House, to make sure we get these records in the system and then close the gun show and private seller loophole, like 92% of Americans want, like 74% of Americans want," said Kelly.
Have a tip we should know? tips@mediaite.com