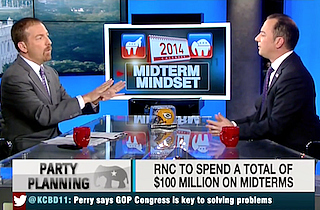 Following a poll obtained by Politico yesterday that showed 50% of women voters had a negative view of the Republican Party, Daily Rundown host Chuck Todd asked RNC Chair Reince Priebus if the reason the GOP couldn't appeal to women and minority voters was that the party was infested with crazy white dudes (and their boat-shoed progeny).
"When it comes to women voters, do the arguments about contraception end up putting the party on mute with those same women voters who may like your economic proposals, but say, 'There's just too many crazy white guys who have too many crazy ideas about my reproductive system'?" Todd asked, arguing that Hispanic voters experienced the same thing with Steve King types on immigration.
Priebus argued that the poll was no great shake for Democrats either, and that women voters care far more about the economy than social issues. "Women actually aren't really moved on these issues as much as the pundits and everyone believes," he said. "In fact if Republicans talk about things like the economy and the debt, and make the case for jobs and schools and education and push back, I think Republicans will win some more."
Priebus also said the GOP's problem with Hispanic voters was not policy but outreach. "If I don't have a conduit in the Hispanic community, at the church festival, at the community event, saying here's what the Republican Party stands for, you're not going to move those numbers," he said.
Watch the clip below, via MSNBC:
[h/t Talking Points Memo]
[Image via screengrab]
——
>> Follow Evan McMurry (@evanmcmurry) on Twitter
Have a tip we should know? tips@mediaite.com