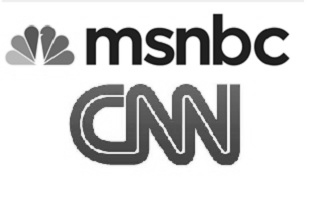 The recent round of cable news hiring, firing, moving, and shaking at CNN and MSNBC has led to criticism that both networks' recent decisions have lacked diversity. The Huffington Post's Jack Mirkinson placed both networks' recent moves on equal footing, but while the comparison has some superficial validity, the criticism fails to take into account the full measure of the cable news landscape, or even the full measure of the criticisms being leveled at the two networks. While MSNBC's moves have, thus far, resulted in a net zero for diversity, CNN is moving in the wrong direction on the diversity front.
Mirkinson quotes heavily from Tampa Bay Times TV critic Eric Deggans in slamming CNN and MSNBC for failing to hire or promote black journalists in their recent spate of moves. MSNBC recently announced that Ed Schultz would be moving to a newly-created weekend time slot, with Chris Hayes filling Schultz's 8 pm slot, and Steve Kornacki taking over the weekend morning Up program. Deggans correctly identifies the shuffle as a missed opportunity to break the 8 pm -11 pm color barrier, but also offers this observation:
At MSNBC, when the channel moved Ed Schultz from his 8 p.m. weekday timeslot, online speculation seemed to center on whether star contributor Ezra Klein or weekend host Chris Hayes would get the spot. Hayes got the gig, in an apparent bid to try cribbing young viewers from conservative media star Bill O'Reilly, whose top-rated show on Fox News clobbered Schultz regularly.

But it is unfortunate to note that few critics thought about Harris-Perry, who has turned her self-titled weekend show into an amusing, thought-provoking program nicknamed (and hashtagged) "nerdland."
It's an excellent point, but one which might say more about the media reporters who fuel such speculation than anything else. The fact that Ezra Klein was heavily rumored to be in line for 8 pm, yet hasn't managed to snag any of the two full-time openings that sprang up, indicates that the speculation isn't necessarily connected to the network's thinking. Furthermore, MSNBC still hasn't filled Steve Kornacki's seat on The Cycle. Deggans notes elsewhere that this could provide MSNBC with another opportunity to promote a black contributor. On that score, the network has a deep bench, and has recently been plugging that bench in as guest hosts with greater frequency. Joy-Ann Reid is the latest to graduate to fill-in duty, and would make an excellent addition to The Cycle's young-skewing vibe.
Deggans even acknowledged MSNBC's relative strength in this area with some qualified words of praise:
Things are a little better in 2013, thanks almost entirely to MSNBC. African American hosts such as The Rev. Al Sharpton, Alex Wagner and Tamron Hall all have weekday programs and Tulane University professor Melissa Harris-Perry has a highly-praised weekend show.
That still leaves 8 pm-11 pm firmly on the white side with the rest of the competition, but MSNBC and CNN do each employ an openly gay anchor in prime time, which none of the other cable or broadcast nets can boast.
Both MSNBC and CNN saw significant growth among black viewers in 2012, although MSNBC's success far outpaced everyone else with a 60% gain in prime time. Deggans noted the stat in his Daily Download column:
Even on MSNBC, a channel which boasts of how its ratings with black viewers rose 60 percent last year, those prime time hours of 8 p.m. to 11 p.m. remain hosted by white anchors.

And outside of MSNBC, viewers are still waiting for CNN and Fox News to move toward reflecting the diversity of the population and our government in its anchor teams.
But CNN also saw tremendous growth among black viewers in 2012, with a 23.7% gain in black viewership. That's why it is so hard to understand why they've decided to get rid of two iconic black journalists. Soledad O'Brien is not just the anchor of the net's morning show, but a journalist who has made tough discussions about race something of a trademark. Recently not-renewed contributor Roland Martin is, likewise, a well-known and influential commentator with black audiences. O'Brien is being replaced by Chris Cuomo, and maybe Erin Burnett. There's still time for CNN to add a black anchor to Starting Point, or to replace Burnett at 7 pm, and they have excellent candidates in Suzanne Malveaux and Don Lemon.
Meanwhile, CNN's newest high-profile hire is Jake Tapper, and while any news organization would be insane to pass up the chance to hire a journalist of his caliber, the exodus of black talent creates an unfortunate contrast, made more unfortunate by reports that a Starting Point producer complained that the show's audience was "too ethnic."
CNN didn't grow its black audience by nearly a quarter by accident, but whatever they were doing right, this doesn't appear to be it. In our January interview, MSNBC President Phil Griffin described his network's drift toward diversity as organic. Hopefully, CNN's drift away from it is not, and is quickly reversed.
Either way, Eric Deggans is right, the news media can, and should, do better. It's not fair, though, to pretend that a network with the record of diversity that MSNBC has is equal to CNN, or that CNN doesn't have a much better record than its other broadcast and cable competitors.
Have a tip we should know? tips@mediaite.com