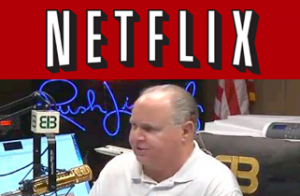 Rush Limbaugh issued a dire warning to his listeners Thursday about Netflix's plan to increase its prices in order to subsidize plans for people who can't currently afford the monthly subscription fees. But by the time he returned from the next commercial break, he had an admission to make: he had made the whole thing up.
"You want to hear something totally outrageous?" Limbaugh asked before revealing his big scoop about the popular movie-streaming service. He went on to explain that Netflix has decided to raise all users' monthly charge in order to "pay for those who can't afford it." He predicted that people "are not going to put up with that."
After a break, Limbaugh declared, "Mission partially accomplished." He admitted that "Netflix is not raising their prices for any reason. I made that up to see what kind of reaction that it would get because I'm trying to illustrate a point here." What exactly that point was, was not immediately clear.
"Based on my email, people are outraged," he said, "more than they get outraged over anything Obama does." He mused about whether the company's stock price would be affected, but decided he gave away the joke too quickly for anything too damaging to happen.
Limbaugh explained that he was trying to show the silly things that people will get upset about, while letting serious issues like tax increases slide without complaining. He then related this to his recent theory that if President Obama dissed Justin Timberlake's new album people would be "livid," while meanwhile they "couldn't care less" that he's "taking away their freedoms and raising the cost of living."
In conclusion, Limbaugh said he was simply "illustrating absurdity: something this program has long been known for." For the record, Netflix stock closed down 0.58% today, so we can all thank Rush for that.
Listen to audio below, via Rush Limbaugh:
—
>> Follow Matt Wilstein (@TheMattWilstein) on Twitter
Have a tip we should know? tips@mediaite.com