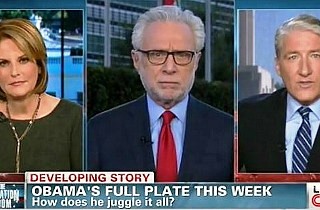 This week, the U.S. Senate debates a continuing resolution which could result in a government shutdown and world leaders converge on New York City for the annual meeting of the United Nations General Assembly. President Barack Obama has a lot to focus on and CNN is on it. In a chyron on Monday, CNN asked: "How does he juggle it all?"

As John King noted, Obama's task for U.N. week is monumental. He must reconcile the world leaders convinced of the need to do something about the unfolding crisis in Syria with those blocking any action against the rogue regime of Bashar al-Assad.
On top of that, Obama must contend with a Congress on the verge of forcing the government to shut down over a plan to defund the Affordable Care Act. And all of this Obama must deal with while attempting to safeguard his second term domestic agenda.
CNN asked the obvious question: How does he do it?

RELATED: CNN Chyron Calls Charlie Crist A 'Republican Turncoat'
"He's always wanted his presidency to be transformative," Gloria Borger noted. "He wants to deal with immigration. He wants to deal with energy. He's got a lot of big issues on his plate."
She observed that the GOP is divided on tactics and grand strategy at the moment, and Obama has an opportunity to exploit that fractiousness.
"There is a possibility for this president to divide and conquer," she advised, "but, you know, at this point everyone in the White House is aware that the clock is ticking."
Watch the clip below via CNN:
[Photo via screen grab ]
— —
> >Follow Noah Rothman (@NoahCRothman) on Twitter
Have a tip we should know? tips@mediaite.com