CNN Contributor Clashes with Marc Lamont Hill: Don't 'Put a Race Card on Everything'!
CNNer Clashes with Marc Lamont Hill: You 'Put a Race Card on Everything'!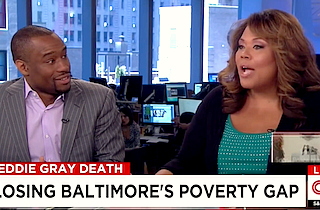 You're not gonna believe this, but a CNN segment over race as a motivating factor in the death of Freddie Gray got heated. Blaze host Tara Setmayer squared off with CNN's Marc Lamont Hill, arguing that Gray's arrest was a singular case of police misconduct, not an incident in a wider problem of systemic police mistreatment of African-American suspects. "You don't have to put a race card on everything," she said.
Hill wasn't having it. "Black people die every day at the hands of law enforcement," he said. "It doesn't matter what color the officer is. the only color that matters is blue…. State violence against citizens is a problem. State violence against poor people is a problem. It's disproportionate. When you look at the number of black people that die at the hands of law enforcement in proportion to their demographic percentage, we're overrepresented in police killing. That's not a coincidence."
Setmayer said that criminality was the ultimate controlling factor, a problematic argument as the Baltimore police have declared Gray's arrest illegal. She then argued that the majority African-Americans in positions of authority pushed against race as a controlling factor.
"Your defense of this not being a race issue is that there are black people involved," Hill said. "By that logic nothing is racial if black people are involved…The argument is that there's a structural problem with law enforcement and that happens whether the officer is black or white. Black people do not march to get beaten by black officers. I don't care who is doing the beating."
After that it devolved into yelling. Good times!
Watch the clip below, via CNN:
[Image via screengrab]
——
>> Follow Evan McMurry (@evanmcmurry) on Twitter
Have a tip we should know? tips@mediaite.com