CNN Contributor: Romney Has 0% Black Support Because He Calculated He 'Doesn't Need Blacks Or Latinos'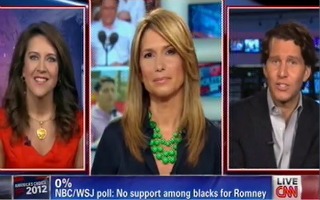 In a discussion on CNN about a recent NBC/Wall Street Journal poll which showed that 0 percent of African American voters intended to support Mitt Romney over President Barack Obama, CNN contributor Maria Cardona said that this is the result of Romney's strategy of eschewing minority support. Cardona said, while she does not believe that there are literally no black voters backing Romney, the results are not so far off because "Romney made the cold political calculation that he doesn't need blacks or Latinos."

CNN contributor Will Cain was asked by anchor Carol Costello if he believed that Romney had no support among African Americans, as the NBC/WSJ poll suggests. Cain replied that such a result was nearly impossible. He said that the poll sampled just 120 African American voters, which is a small enough subset to generate a skewed result.
"Obviously, what we learn here is the definition of margin of error," said Cain.
"I don't think anybody believes that he has zero support among the African American community," said Cardona. "But it does underscore the fact that he's got very little support – especially as compared to President Obama."
Cardona said that Obama's policies, as well as his heritage, make the results of this poll less surprising.
Cain went on to outline historically why black voters tend to show more fealty towards the federal government due to their historical experience in the era of desegregation. Combined with President Obama's ethnic background, he says it is understandable that Romney would receive a low amount of support from African Americans.
Costello asked Cardona why Romney's appearance before the NAACP did not yield a bump in support from black voters. Cardona responded that, while the speech was relatively successful, Romney later went back to his core constituency and campaigned on the fact that he was booed by that crowd for pledging to repeal "Obamacare."
"He told this group, look, if this group of people – talking about African Americans – want more free stuff from the government, they should be voting for the other guy," said Cardona. "That's clearly disrespectful to the African American community and not really a way to reach out to them."
She said that the Romney camp made a "cold political calculation" that they do not need minority support in order to win the election. Cain replied to that assertion by saying that Romney's refusal to pander to whatever crowd he is in front of at any given moment "should be applauded."
Watch the segment below via CNN:
> >Follow Noah Rothman (@Noah_C_Rothman) on Twitter
Have a tip we should know? tips@mediaite.com