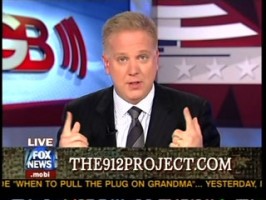 Apart from the discovery of the Lascaux cave paintings in 1940, September 12th is a day that has largely lived in obscurity. But thanks to the meteoric rise of popularity and influence of Fox News anchor Glenn Beck, today is now also known for The 9/12 Project – a day for followers of the Tea Party movement and other conservative groups to march on the nation's capital to protest what they say is out-of-control government spending (with similar, smaller events are expected in cities across the country). It's a given that the march will receive extensive coverage on Fox News Channel (starting at 1:00 PM EST), but raises questions of how other news outlets should cover this event — as grass-roots movement, publicity stunt or both?
While its too early to gauge the overall attendance and success of this event, it is getting a lot of attention by CNN. However, in its early reports, a viewer would never know that the event was conceived and promoted by the Fox host. Beck put together The 9/12 Project, a campaign named for the "nine principles and twelve values that embody the spirit of the American people on the day after the September 11 attacks."
Beck has previously supported the tea party protests from their inception, both on his shows and by participating in fundraisers, and has also promoted tea parties organized by FreedomWorks and the American Family Association with whom he's working with on the 9/12 project.
Before coming to the Fox News Channel, Beck had his own show on CNN's Headline News. Now that he has effectively created his own news spectacle, he has put CNN in a significant quandary – how does one cover the event and ignore the individual who put it together? See for yourself in the following clip:
Have a tip we should know? tips@mediaite.com