CNN Panel Clashes After Trump Supporter Accuses Hillary of 'Exploiting' Women's Weight Issues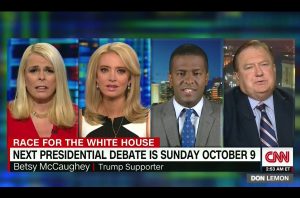 A CNN panel discussion derailed Wednesday night after a Donald Trump supporter accused Hillary Clinton of exploiting women's weight insecurities for political gain.
"I'm a mother, I have three daughters, I have two granddaughters, and we have been through the whole gamut of the issue that Hillary Clinton is now featuring: the weight issue, gaining weight or, on the other hand, eating disorders," said Betsy McCaughey. "She brought it up at the debate when she mentioned Miss Machado, and of course she's running an ad that shows young girls uncomfortably, painfully uncomfortably looking in the mirror."
"This to me is very disturbing, " she continued. "I have actually sat at the bedside of a child very close to death. And families like mine that have suffered so much on this issue are appalled that Mrs. Clinton is exploiting this into a political issue."
CNN liberal commentators Bakari Sellers and Bob Beckel began to protest. "If you are appalled by that and you still support Donald Trump, that's some personal issue that you have," said Sellers. "She's not just running an ad with women starting in a mirror, she's running an ad with women staring it a mirror with the words of Donald Trump playing over them."
"It's the words that come out of his mouth, it's the misogyny that comes out of his mouth. It's nothing more, it's nothing less," he said. "And if you want someone to stop making it an issue, tell Donald Trump to stop talking like that!"
Host Don Lemon somewhat slyly noted that he had obtained a list of talking points from the Trump campaign, and McCaughey was going through the list one by one. "They didn't tell me to bring up my family," she shot back. "The fact is that so many families across this nation see that ad and think, 'How can they be taking this very serious and sensitive personal issue and turn it into a political ad?'"
"It was Donald Trump's own words!" Sellers and Beckel both insisted.
Beckel told McCaughey that Trump needed to stop attacking Hillary at every opportunity and needed to start focusing on making his own case. "This guy has to get manners," he said.
Watch above, via CNN.
[Image via screengrab]
—
>>Follow Alex Griswold (@HashtagGriswold) on Twitter
Have a tip we should know? tips@mediaite.com