CNN Panel Gets Heated Discussing Alex Jones: Why Did Piers Morgan 'Give Him The Air Time?'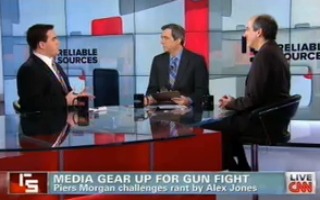 CNN's Reliable Sources panel got heated while taking on the controversy surrounding gun advocate Alex Jones' recent appearance on Piers Morgan's show to discuss gun control. Host Howard Kurtz kicked off the discussion by asking, "How did Piers Morgan handle Alex Jones?" Each of the panel members had competing views and clashed over whether Jones should have been allowed on the air in the first place.
Paul Farhi of The Washington Post asked, "Did anyone at CNN or Piers Morgan's show ever see or hear Alex Jones before they booked him on that show?" According to Farhi, CNN "should have known" what they were getting into by having Jones on. He argued that Alex Jones has gotten a lot of attention since the appearance and his ratings will likely go up because of it.
RELATED: NRA President Tells Candy Crowley Gun Advocates 'Will Be Heard': Assault Weapons Ban Won't Pass
Keli Goff of TheRoot.com disagreed and noted that if viewers examined the show as a "contest of who got to say more words" then Jones won, but if it was a contest of "who came across looking more sane," then Morgan won. "On that regard," she said, "I think it was effective." Morgan himself called Jones "rambling and unhinged" after his appearance.
Robert Costa, Washington editor of The National Review, called the decision by CNN to bring Jones on "entertainment" instead of "serious" journalism. "Why give him the air time?" he asked.
Costa also disagreed with his fellow panelists that Jones was representing the conservative position. "I think a lot of gun advocates don't have the hysteria that Jones has," he said. His message "does not represent the conservative way of thought."
Watch the clip below, via CNN:

—
>>
Follow Anjali Sareen (@AnjaliSareen) On Twitter
Have a tip we should know? tips@mediaite.com