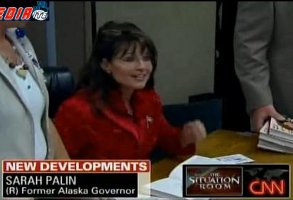 Currently, Sarah Palin is touring the country promoting her new book, America By Heart, and even though the tour recently made its way to Iowa – home, of course, of the almost-mythical Iowa caucus (first in the nation!) – Palin's remaining mum on whether or not she'll run for president in 2012. CNN's Jim Acosta tried to get her to change that today when he caught up with Palin at a signing taking place at a Spirit Lake, Ia. Wal-Mart, but as he recounted to Wolf Blitzer on The Situation Room, didn't have much success.
Acosta told Blitzer it was likely that the only reason he got a question in at all was because the event deviated from its planned script – for example, the loud music piped in to the room where Palin was signing books (playing, Acosta thought, to prevent media members from asking questions), apparently stopped near the end of media members' allotted time in the room.
When Acosta snuck in a question asking whether or not she was any closer to making an announcement regarding a presidential run, she clearly wasn't thrilled ("Am I doing interviews? I thought I got to talk to the nice people [in line]; where's our music?"), but kept her cool and even had a bit of a friendly back-and-forth with Acosta: he replied to her that "we're nice too"; Palin shot back, "Not always, but maybe you are."
She eventually said she was no closer to an official decision/announcement, at which point one of her handlers stuck a hand in front of CNN's camera and made Acosta leave. And on that note, a friendly tip to anyone charged with keeping the peace at such an event: absolutely do not stick your hand in front of a camera unless the person holding it is causing a scene, because few things will make you look like more of a bully. Video of the segment below.
Have a tip we should know? tips@mediaite.com