CNN Special Tonight: History Made as Two 'Outpost' Survivors Awarded Medal of Honor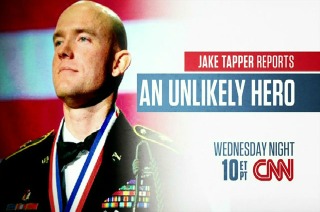 In February, President Barack Obama awarded Army Staff Sergeant Clint Romesha with the Medal of Honor. Romesha was profiled in a book by CNN host Jake Tapper, The Outpost: An Untold Story of American Valor, which chronicled the events of a brutal Taliban assault on an American outpost in Afghanistan. In the coming weeks, another figure profiled in Tapper's book, Army Staff Sergeant Ty Carter, will also receive a Medal of Honor for valor in defense of Combat Outpost Keating in 2009. On Wednesday night, CNN will air an hour-longs special detailing the Carter's account of that day: "Jake Tapper Reports: An Unlikely Hero."

Next week will be the first time since 1967 that a single battle resulted in the awarding of two Medals of Honor to living servicemen. In 1993, in the wake of the assault on American servicemen defending a downed Helicopter in Somalia (chronicled in Mark Bowden's Black Hawk Down), two service members were also awarded Medals of Honor, but both were posthumous.
For the special, Tapper traveled to Joint Base Lewis-McChord in Washington state where he conducted an in-depth interview with Carter about his experiences on the night of the attack and how he has dealt with the post-combat trauma he has experienced since.
Carter and Romesha were central figures in Tapper's New York Times bestselling book, The Outpost: An Untold Story of American Valor. The book, which will be published in paperback on October 22, chronicles the troubled history of one of the most remote American military posts in Afghanistan and the eight American service members killed in the October 2009 attack on Combat Outpost Keating. Tapper traveled to Afghanistan twice while reporting the book.
The CNN special will air on Wednesday night on CNN at 10 p.m. ET.
> >Follow Noah Rothman (@NoahCRothman) on Twitter
Have a tip we should know? tips@mediaite.com