CNN's Ashleigh Banfield And Roland Martin Tear Into State Senator With Anti-Kwanzaa Crusade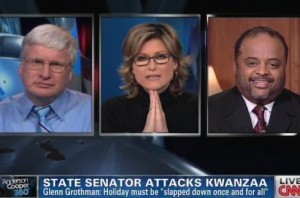 Wisconsin state senator Glenn Grothman raised many eyebrows on Monday when he released a statement railing against Kwanzaa, declaring that "no black people today care" about it, only "white left-wingers." Grothman attempted to explain himself on CNN tonight, with guest host Ashleigh Banfield and Roland Martin both asking him with increasing incredulity what his problem is exactly with Kwanzaa, and what makes its origins so much more bothersome to him than other holidays with less-than-pleasant origins.
RELATED: GOP State Senator Slams Kwanzaa: 'Almost No Black People Today Care…Just White Left-Wingers'
Grothman's main contention was that the Kwanzaa holiday was created by a racist who hated the idea that Christ died for everyone's sins. He explained to Banfield that "not enough TV types" understand the "violent, racist past" of Kwanzaa founder Maulana Karenga. Banfield pointed out that when people celebrate a holiday, they generally don't give much thought to the person who founded it.
Banfield revealed on the air that Grothman refused CNN's offer to put him on with Roland Martin because he didn't want to face anyone who was pro-Kwanzaa. Grothman told Banfield she was misrepresenting the facts, and that was when Banfield revealed Martin waiting in the wings, itching to jump into the conversation. Martin immediately asked Grothman what his particular beef is with Kwanzaa, considering that all holidays were created by humans at some point.
Martin pointed out that Easter has pagan origins, and told Grothman that he shouldn't insult a holiday celebrated by people all around the world just because he dislikes the man who created it. Banfield attempted to catch Grothman off-guard with a quote from George W. Bush praising Kwanzaa. Not only did Grothman recognize the quote, he said it was one of his many reasons why Bush "was an irritating president for some of us."
Martin burst out laughing while Banfield told Grothman he was sounding "borderline ridiculous." She exasperatedly said she has never seen anyone "raise a pitchfork or a fist to celebrate Kwanzaa," asking him what's the harm in the holiday. Martin likened Grothman to people who opposed the Martin Luther King Jr. Day holiday. Banfield and Martin threw Columbus Day and Valentine's Day at Grothman as holidays with violent associations.
Watch the full segment in all its glory below, courtesy of CNN:
—–
Follow Josh Feldman on Twitter: @feldmaniac
Have a tip we should know? tips@mediaite.com
Josh Feldman - Senior Editor