CNN's Brooke Baldwin To Former Ambassador Roemer: Should Obama Disavow Inaccurate Priorities USA Ad?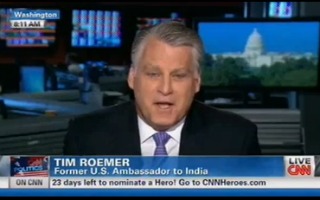 Former U.S. Ambassador to India Tim Roemer appeared on CNN's Starting Point Thursday morning, where he weighed in on a couple of recent, highly contentious election ads.
First, he tackled a new Romney ad accusing President Obama of "declaring war on religion."
"Well, with this new ad on the Catholic Church and on health care," said Roemer, "he's back in the 1950s and '60s trying to remove, you know, health care services for women. Look, as a practicing Catholic, it's extremely important to me, and something that I have talked to the White House about, that we have a balance between respecting religious freedom, which is core to our Constitution and our practices in this country, and providing accessible health care to our people. And in particular women. And I think the President has done a great job on this front. And I think this ad is terribly misleading and wrong."
"I think the President has struck just the right balance," he added later. "And, again, Governor Romney, just as he has in other ads, is misstating the facts. People are saying — all the fact checkers are saying that many of these ads are just not true or believable."
Talk soon turned to the Priorities USA ad mentioning Bain and a man's wife's death from cancer.
"CNN did our very conclusive fact checking. It's just not accurate," said host Brooke Baldwin about the ad. "This ad is just not accurate. My question to you is, given the facts — and I say that sort of loosely — of the ad and also just of the tone taken here, Mr. Ambassador, do you think that the President should disavow the ad? And would you, will you, disavow the ad?"
"Look, Brooke, I haven't even seen the ad," Roemer replied. "You said it's not on the airwaves. I know many of you think we watch TV all day. You played a couple of seconds of it. I have not seen the ad. But let me say this. As a Congressman, former Congressman from Indiana, we saw plenty of people, too many people, that were laid off from jobs, that lost their jobs and with that they lost their dignity, lost their health care, and sometimes terrible things happen. This breaks your heart."
"This is a heartbreaking story," Baldwin agreed. "And whatever side you're on, you feel for this man and the wife that he lost. But when you look at the facts in this ad, the facts are inaccurate. We later learned… our White House correspondent did the fact checking and found out that this wife didn't fall ill and die until six years after he was laid off. She actually had insurance. Ultimately she had an injury and lost insurance. But the two are not conclusively linked. Therefore, inaccuracy. Do you stand by the ad?"
"I haven't seen the ad, Brooke," he reiterated, slamming PACs for their ads.
Have a look at what he had to say, via CNN:
Have a tip we should know? [email protected]