Don Lemon Clashes With Romney Adviser Over Candidate's Attack On Obama Response To Libya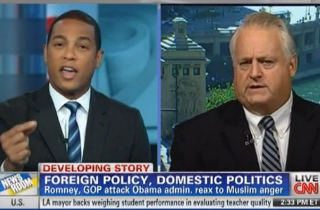 On CNN Wednesday afternoon, Newsroom fill-in host Don Lemon got into a heated argument with Mitt Romney's foreign policy adviser Richard Williamson over the Romney campaign's attacks on the Obama administration's response to the violent assault on the U.S. consulate in Libya.
Lemon started by quoting the Romney response which accused the administration (via the embassies abroad) of not initially condemning the attacks, but rather "to sympathize with those who waged the attacks." Lemon continued on to ask: "When this country was in the midst of a diplomatic crisis overseas, our people were in harm's way, is this the time for a candidate for the presidency to speak out in a way that's critical of the government? It couldn't wait?"
Williamson responded by correcting the chronology, saying that "the statement issued by the U.S. Embassy on behalf of the Obama administration did apologize for the fact that we have free speech and pluralism in America. That statement was reissued after the embassy was breached." Only when Romney attacked the administration's "apology," Williamson claims, did the White House say they never cleared the initial embassy statement.
"It's the responsibility of our political leaders to stand up for what they think are right," Williamson continued. "And Governor Romney doesn't think it's right to apologize that we allow people the freedom of speech. He's not condoning how this movie or others might use this freedom. But that is in our Constitution, that's our values, that's our history," he said before offering condolences for the families of those who were killed.
"But my initial question was: it couldn't wait?" Lemon pressed.
"Well, let me reiterate," Williamson said, "the timeline you suggest was not the same that I just went through."
"I'm not asking about the timeline," Lemon shot back. "It couldn't wait until all of the information — hang on," he said as Williamson began to laugh and shake his head. "Let me finish. you didn't answer. I gave you plenty of time when I asked the first time. You went on and then you gave me three points. You're saying it could not wait, yes or no?"
"That's a silly question," Williamson responded.
"It's not a silly question," Lemon charged back, "You're having to backtrack now and talk about a statement," he continued as Williamson laughed again and hid his face in his hands.
"I came here to talk about the failed policies in the Middle East," Williamson said. "What you want to do is play a process getcha question. I don't want to play your game."
After a bit of crosstalk, Williamson said "Governor made the statement. It was fine, it was acceptable, it was right." Following a brief pause, he continued: "Did you just hear me?"
"I heard you. But that's not what I asked you about. But we'll move on now," Lemon said, as Williamson threw his hands up in the air and rolled his eyes.
Lemon then switched to former Reagan speechwriter Peggy Noonan's statement that Romney wasn't "doing himself any favors" this morning with those anti-Obama responses. Williamson responded by saying: "Well, as someone who served as Deputy Chief of Staff Ronald Reagan in the White House and later as Assistant to the President for Governmental Affairs in the White House, I think Ronald Reagan would have had no problem with Governor Romney speaking the truth and saying to the American people we shouldn't apologize for our values and we should stand up for what we believe."
Watch below, via CNN:
— —
>> Follow Andrew Kirell (@AndrewKirell) on Twitter
Have a tip we should know? [email protected]