CNN's Don Lemon Showcases Couple Who Won $14M From Libelous Online Commenters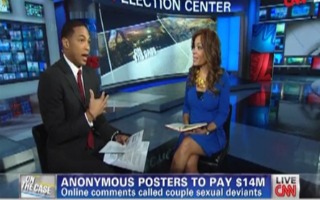 CNN anchor Don Lemon sent a shot across the bow of aggressive online commenters on Wednesday when he reported on a Texas couple who recently won a $14 million lawsuit against 800 online commenters who posted false information about them on the Internet.

RELATED: Don Lemon Attacked For Saying Obama Admin Must 'Take Responsibility' For What 'Happened On Your Watch'

"This is fair warning to all of you haters online," Lemon began. "Your cloak of anonymity may have been just shattered by a Texas jury. It awarded nearly $14 million to a couple suing for libel."
Lemon profiles Mark and Rhonda Lesher, a couple acquitted in 2009 of raping a woman. "But before they were cleared, anonymous Internet users painted the Texans as sexual deviants and molesters," said Lemon. "The Fort Worth Star-Telegram reports the Lesher's submitted 800 libelous online posts after tracking down the IP addresses."
"It turns out, one of those ordered to pay is a woman who accused them of rape," Lemon concluded.
"This judgment should freak out all the people who think that they can hide behind the internet here," said Lemon who only this week fought off attacks from commenters on Twitter for commentary he made over the weekend suggesting that President Obama should take responsibility for the scandals that have occurred over the course of his administration.
"And they should be freaked out," said CNN legal analyst Sunny Hostin. "I think people do things and say things – type things – on the Internet that they wouldn't' say to a person face-to-face. That hey certainly wouldn't' send a letter to a person. They think they are shrouded by anonymity. Well, we should know by now in this digital age that nothing – nothing ever sort of goes away."
"Bottom line though is no one is really ever protected from saying things that are false and harmful," said Hostin. She said many people erroneously think that freedom of speech covers libel or slander.
"Not hate speech," interjected Lemon.
"And not false statements," Hostin added. She did, however, say that many cases of libel are not litigated because the burden of going to court is often so onerous that few follow through with a lawsuit.
Watch the segment below via CNN:
Have a tip we should know? tips@mediaite.com