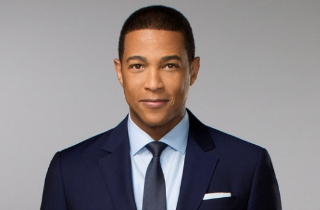 In his latest audio commentary for the Tom Joyner Morning Show, CNN anchor Don Lemon railed against the Republican Party and some of the Million Vet March protestors for "drinking the Obama hater-aid."
"What do you think would happen to you or me if we went and threw barricades at the White House?" Lemon began his monologue. "We'd be thrown in jail." The CNN anchor was referring to the recent actions of the Million Vet March, in which some protestors tore down a barricade blocking a D.C. war memorial.
"There are some who are defending the misdirected actions of some veterans and Tea Party members of calling the President a Muslim, 'take your hand off the Quran come out with your hands up', carrying confederate flags to the White House and basically vandalizing federal property by moving it and throwing it in front of the home of the Commander-in-Chief," Lemon lamented. "It's embarrassing."
He then suggested that GOP'ers defending those protestors actions are doing it because "the Republicans are in trouble." If Republicans "don't wake up soon," he warned, "they're doomed."
Citing a few PR experts, Lemon suggested the GOP is in serious need of a "makeover." The Republican "brand," he said, "should be in transition as society progresses." But because the party is only concerned with stopping a president they "hate," Lemon declared: "For that reason, and their inability to embrace the winds of change sweeping through our country, there will never be another Republican President in our generation. In our lifetime."
He continued:
So, I say as the party dominated by aging white Americans and some very vocal bigots, the Republican party no longer represents the changing demographics in this country. And it's hard for even members of their own party to believe that it's the President's fault that veterans can't visit the World War 2 Memorial or that family members of war heroes aren't receiving death benefits because of the shutdown. Not even their own party is buying it and the American people certainly aren't buying it. Republican Party, wake up before it is too late!
"Stop drinking the hater-aid," Lemon concluded. "It is leaving a bad taste in your mouths and the majority of America is recoiling from your bad breath."
Listen below, via BlackAmericaWeb:
— —
>> Follow Andrew Kirell (@AndrewKirell) on Twitter
Have a tip we should know? tips@mediaite.com