CNN's Fareed Zakaria: Mitt Romney Is 'Not Very Well Briefed On Foreign Policy'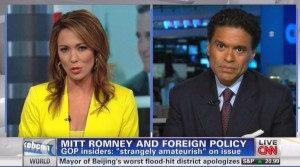 On CNN earlier today, Fareed Zakaria explained that he has spoken to several Republicans who are concerned about Mitt Romney on foreign policy, especially in the the wake of his gaffe earlier today about the London Olympics. Zakaria said that Romney lacks strong advisors on foreign policy, and is thusly "not very well briefed" on the issue.
RELATED: When Will President Obama And Mitt Romney Talk About Foreign Policy?
Brooke Baldwin ran the video of Romney's remarks last night about the Olympics, and asked Zakaria if it got his overseas trip off to a "rocky start." Zakaria said the remarks were being overplayed by the media, but explained why they were still significant for the Romney campaign.
"He does seem, in general, not very well briefed on foreign policy. For example, you know, while this was a very minor issue, I think that one of the first rules when you're kind of a visiting dignitary is you never criticize the host country for anything."
Zakaria also criticized the "amateurish" way the Romney campaign has been handling foreign policy, revealing that Republican insiders are concerned that Romney does not have a foreign policy "A-Team" briefing him. He said that normally, officials from previous administrations would make up the campaign's foreign policy team, but Romney does not have many of those working closely with him.
Baldwin brought up the issue of foreign popularity of a U.S. president and asked how important it is that other countries like the American leader. Zakaria said it is easier to get other countries to join a coalition with the United States when they like the president. Zakaria also pointed out that Obama's popularity in certain countries has faltered because people believe he is too pro-Israel.
Watch the segment below, courtesy of CNN:
—–
Follow Josh Feldman on Twitter: @feldmaniac
Have a tip we should know? [email protected]
Josh Feldman - Senior Editor