CNN's Matthew Chance: Gaddafi Forces Won't Let Journalists Leave Tripoli Hotel (Update)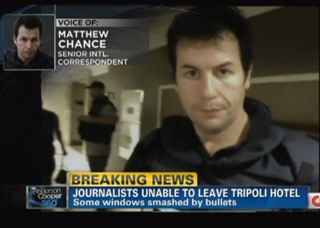 While the situation in Libya remains entirely unstable and reporters outside face the risks of battle, the journalists still inside the Rixos Hotel in Tripoli are facing their own challenges, as Gaddafi loyalists still have control of the building and are preventing reporters from going outside. On tonight's Anderson Cooper 360º, host Anderson Cooper spoke to Matthew Chance from inside the hotel, where he reported journalists were "not happy being here anymore," but couldn't escape. Update – they have been freed from captivity.
Describing the situation of the journalists in the hotel as "grave," Chance told Cooper that they had taken one floor of the hotel for themselves, but not quite dared leave it and were very concerned that they were in one of the few remaining Gaddafi strongholds. He noted that he had had contact with the Gaddafi forces, as they were patrolling the hotel and keeping the lobby closed. "We asked to leave the hotel, we're not happy being here anymore," he told Cooper, but they were not allowed. "We feel that they feel that we're valuable," Chance explained, which made the journalists feel slightly safer, but not by much.
Cooper asked what the forces' response to requests to leave had been, which Chance replied that they were arguing that "it's not safe for us to do that" and that they were only in the hotel "to protect us." This contradicted their claims that they still had control of Tripoli, however, and that "they have control outside," which the journalists inside know from reports on the outside is not true.
The report via CNN below:

Have a tip we should know? tips@mediaite.com