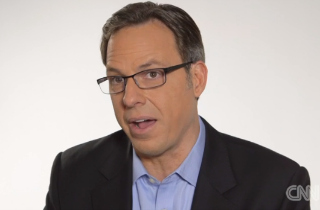 CNN reporter Jake Tapper has found the angle to the ongoing "GruberGate" story that will undoubtedly have serious political implications: President Barack Obama's initial promises of what the Affordable Care Act are directly contradicted by what MIT professor Jonathan Gruber has repeatedly said the law would do.
Back in 2009, the president promised that the health care bill's tax on so-called "Cadillac plans" — the more expensive, luxury insurance plans — would not impact how employers provide more general insurance.
"That promise is completely at odds with how Gruber describes not only that provision of the Affordable Care Act, or Obamacare," Tapper wrote, "but the intention of that provision."
His report continued:
In one of the videos that surfaced in recent days in which the man described by the Obama campaign as having helped to write Obamacare describes the many ways voters he calls stupid were easily misled about the bill by those pushing it, Gruber says the Cadillac tax will do exactly what the president pledged it would not — dissuade employers in general from providing insurance for its employees.

[…] Gruber said the only way those pushing for Obamacare could get rid of the tax subsidy for employer provider health insurance was to tax the more generous, or Cadillac, plans — "mislabeling it, calling it a tax on insurance plans rather than a tax on people when we all know it's a tax on people who hold those insurance plans."

The second way was have the tax kick in "late, starting in 2018" and have its rate of growth tied to the consumer price index instead of to the much higher rate of medical inflation. Eventually, the 40% tax on the more expensive plans would impact every employer-provided insurance plan.

[…] By 2018, Gruber said, those who object to the tax will be obligated to figure out how to come up with the trillion dollars that repealing the tax will take from the U.S. Treasury, or risk significantly adding to the national debt.
"This is obviously exactly what Obama told voters in 2009 he had 'taken off the table,'" Tapper concluded.
Watch below, via CNN:
Have a tip we should know? tips@mediaite.com