Colbert Wants to Know Why Michael Brown Couldn't Have Been More Like Cliven Bundy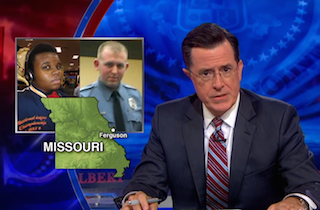 After airing a sneaky post-Emmys rerun Tuesday night, Stephen Colbert was finally back on the job last night after a two-week vacation and as expected he began his show with a deep dive into Ferguson, Missouri. And just like many Fox News pundits, Colbert urged his viewers to "wait to pass judgement" on Officer Darren Wilson.
"Some are rushing to judge this man as a violent, racist cop who gunned down an unarmed black teenager," Colbert said. "But others are arguing that he's a heroic police officer doing his job — by gunning down an unarmed black teenager."
Also like some on Fox, including MediaBuzz host Howard Kurtz, Colbert said he thought all the media coverage is causing more harm than good in Ferguson. "It's true. The presence of a camera clearly makes people behave recklessly because I don't believe for a minute that Howie Kurtz would have floated the idea that journalists are to blame for the Ferguson violence if a camera wasn't pointed at him," Colbert said. "For his own safety, get this man off of television!"
Later, Colbert turned to the inevitable "national conversation on race" that will come out of this story. He wondered aloud why Michael Brown and other young African-Americans can't be more like Nevada rancher Cliven Bundy and his supporters. "They were armed, they dared the cops to shoot them and nothing happened!" he said. "Just figure out whatever was different about them, and you'll be fine."
Colbert even worked in a plug for his Comedy Central successor, Larry Wilmore, inviting him to respond… in January 2015.
Watch video below, via Comedy Central:
[Photo via screengrab]
— —
>> Follow Matt Wilstein (@TheMattWilstein) on Twitter
Have a tip we should know? tips@mediaite.com