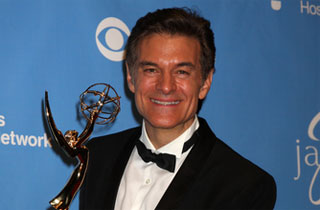 In response to a letter from prominent physicians calling for Columbia University to fire Dr. Mehmet Oz, the faculty of the Columbia University College of Physicians & Surgeons simultaneously defended the TV doctor's place in the school, while acknowledging that he was often guilty of promoting unproven, sometimes dangerous alternative medicine.
The op-ed, authored by eight members of the Columbia medical faculty and published in USA Today, admitted that, yes, Dr. Oz often dispenses questionable medical advice on his show, but that it was a completely separate endeavor from his private medical practice. However, they refused to associate the school's name to Oz's advice: "Irrespective of the underlying motives, this unsubstantiated medicine sullies the reputation of Columbia University and undermines the trust that is essential to physician-patient relationships."
That said, however, they believed that on a day-to-day basis, and in the context of a doctor actually treating patients, Oz is a good physician and surgeon:
The weaknesses in the professional balance sheet of Dr. Oz's pixel practice should not, in and of themselves, disqualify him from his day job as a professor in the Department of Surgery at Columbia University. He was hired by Columbia as a faculty member in 2001 on the basis of his skills as a physician. He continues to receive excellent peer reviews and patient satisfaction ratings. Those accolades are earned and his Columbia employment should not be terminated without better demonstration of on-site performance failure. It does not follow that complaints about his on-air medical practice will be addressed by demanding that he leave his other job in which he excels.

The difficulty in resolving the dilemma of Dr. Oz raises other more important issues. Specifically, we need to re-evaluate the roles of the health sciences and government in broadcast medicine and what are the responsibilities of media physicians to their patients?
Noting that this is a common problem among physicians with side jobs, particularly doctors with media gigs, the letter criticized the lack of governmental regulations that would prevent "virtual patients" from getting quackery dispensed "from physicians generating virtual prescriptions", and proposed the creation of a separate supervisory body that would publicly advise on the efficacy of alternative medicine.
But as long as there's a barrier between Dr. Oz the Actual Practicing Surgeon, and Dr. Oz, The Guy on TV With The Miracle Weight Loss Pills Whose Advice Is In No Way The Opinion of Columbia University, his peers think he can continue to work at the school. "Unless these foibles can be shown to render Dr. Oz inadequate or ineffective at Columbia, there is no justification for forcing him to resign from a well-earned position in academic medicine."
[Image via Helga Esteb / Shutterstock.com]
—
>> Follow Tina Nguyen (@Tina_Nguyen) on Twitter
Have a tip we should know? tips@mediaite.com