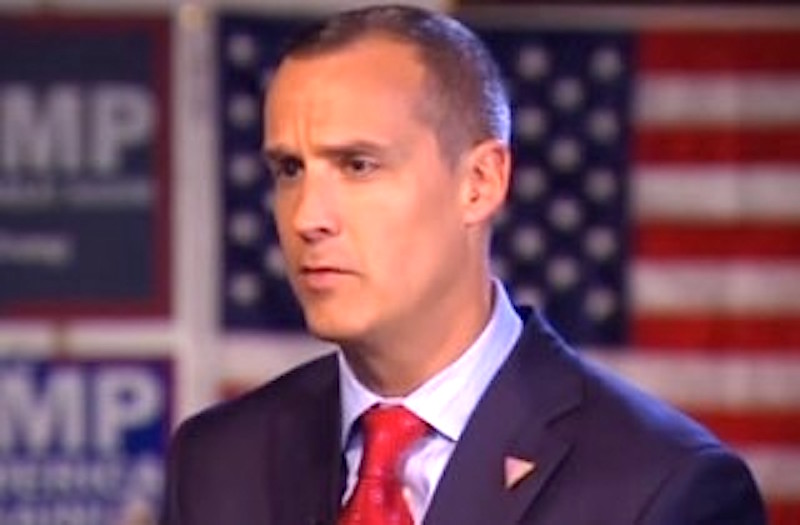 Corey Lewandowski has reportedly been fired from One America News Network.
According to The Daily Beast, three anonymous sources with knowledge of his termination said Lewandowski's frequent appearances on numerous cable news networks like Fox News and CNN have "angered OANN leadership," with one former employee calling it a "big no-no." While senior-level OANN staff figured Lewandowski would appear on other networks, they were frustrated that Lewandowski was giving more attention to their competitors than his actual employer.
OANN's chief executive Robert Herring didn't confirm the firing, but didn't deny it either:
[He] declined to comment directly on Lewandowski's status with the channel save to note that the one-time Trump campaign manager was spending an inordinate amount of time on-air with OANN's competitors. Asked directly if he had any reason to deny The Daily Beast's reporting, Herring replied: "I have none whatsoever."
Lewandowski joined OANN in January before President Trump's inauguration to provide political analyst and insight of the Trump campaign, which he served as campaign manager until he was fired from that job.
OANN was launched in 2013 as a conservative alternative to Fox News. However, they only reach 15 million out of 100 million homes in America most networks reach. Earlier this year, they attempted to court Bill O'Reilly after he was fired from Fox News, but ended up pulling their offer.
[image via screengrab]
Have a tip we should know? [email protected]