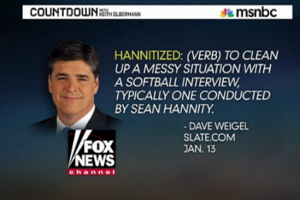 Ah, finally: a neologism related to Sarah Palin not coined by her. With the help of Slate's Dave Weigel, fill-in host Chris Hayes gave a spot on Friday's Countdown to the reinvention of the fake verb "Hannitize"– once used by the man Sean Hannity himself to describe the process by which viewers are converted to his political views, now employed as a way to describe interviews between Hannity and conservatives that have said messy things in the news before going on the show.
Hayes gives credit to Weigel for redefining the term as "to clean up a messy situation with a softball interview, typically one conducted by Sean Hannity," then introduces the evidence that this happens often enough to merit its own dictionary entry (well, at least cable news glossary entry)– interviews with Palin herself, Sen. Rand Paul, President George W. Bush, and a host of others — all after saying something controversial or otherwise making headlines that needed a little polishing.
Palin enters this interview with a mess on her hands as well; in fact, the interview is being advertised as particularly important because it is the first one since the Tucson shootings, and the first since her infamous "blood libel" online video in which she defended herself from accusations that her rhetoric had been inciting violence. It seems unlikely, given past history, that Palin will walk back her words, but especially in a friendly venue, one could be easily led to believe she will skim only as much of the surface as necessary.
The segment from last night's Countdown below:

Have a tip we should know? tips@mediaite.com