Cringe-Worthy: Watch MSNBC Panelists Deliver Their Best Racially Insensitive Jokes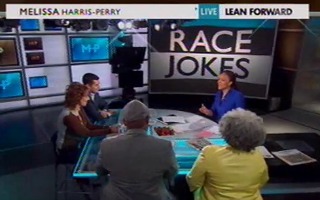 With a sociologist's detached and dispassionate approach, the panel guests on Sunday's Melissa Harris-Perry show on MSNBC dissected the importance of racial jokes in society and lamented the how race-based humor is viewed with a mixture of skepticism and downright revulsion by modern political commentators. It did not take long, however, for the segment to devolve into a roundtable pitch session in which guests and host alike showcased what they thought were the funniest race jokes in their repertoire.

"Maybe race jokes are the place where we can actually talk about race?" Harris-Perry asked her guests.
Her panel of guests, which consisted of a mixture of social commentators, academicians and comedians, agreed. They noted that humor is an effective tool to broach politically incorrect topics, like Islamophobia.
Harris-Perry lamented that comedian Dave Chappelle was not around in the way he was in the Bush years, because he possesses the ability to deconstruct race in a way that few others can.
At this point, the guests decided to try out some of their best racial material. Comedian Dean Obeidallah said that one of his best jokes about race poked fun at white people. He said that when whites become a minority in the United States, they can look forward to having a month to celebrate their heritage – or maybe just a week. "Whitey week," Obeidallah suggested.
Daily Show co-creator Lizz Winstead chimed in with something a little more edgy: "It would have been kind of fun to see Herman Cain as the presidential nominee, because there would have been mass suicides in the Klan," Winstead said to the groans of her fellow panelists.
University of Pennsylvania Professor Anthea Butler offered her joke, in which she poked fun at her days in grad school when she and most of her fellow students were impoverished. "If a black person said they were broke, it meant that they had negative in their bank account," Butler began. "A white person says they're broke, we never believed them, because it meant that they had $500 in their bank account. They don't know the meaning of being broke."
Butler's joke brought the house down in the MSNBC studios.
Finally, Harris-Perry got into the act. In her joke, a young, Jewish man brings three women home to his mother and asks her to determine which woman he will be marrying. After talking to all of the women, the mother correctly identifies her son's bride on the first try. When the son asks how she accomplished this feat, the mother replies, "I don't like her."
On the whole, Harris-Perry deserves the most accolades for taking a chance. She made, at least, a genuine ethnic joke. By embracing a premise which exposed her to criticism (in the way that making fun of white people does not), her exposure made the joke that much more impactful. Harris-Perry's audience wanted her to succeed because they understand inherently that she has subjected herself to a greater blowback if her joke were to fail or her premise to overreach.
Strange that a room full of joke writers would fail to acknowledge this broadly understood principle of humor writing. For MSNBC, however, where there is a premium on being the most politically correct person in the room, it is an heartening sign to see this mutiny against neutral, acceptable, and thoroughly boring speech.
Watch the segment below via MSNBC:
> >Follow Noah Rothman (@NoahCRothman) on Twitter
Have a tip we should know? tips@mediaite.com