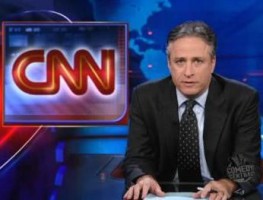 We've detailed times when Jon Stewart and The Daily Show have been biting and brutally accurate in their media criticism and political satire.
But in a lengthy critique of CNN yesterday, The Daily Show fell back on a tactic of choppy editing and a somewhat disingenuous premise.
It began with a focus on the surprising CNN Saturday Night Live fact check, which we wrote about last week. "You got together, did some research, and put together a report on an SNL sketch," said Stewart. "While you were doing your research did you also find that sharks live in water and don't deliver candy-grams, that there's no African American equivalent of Mr. Rodgers, and that the majority of boxes don't have dicks in them, were you able to find that out?"
Good point, and funny as usual. After playing a clip of Sen. Jon Kyl saying something to John King on a State of the Union appearance that turned out to be false, Stewart focused on King who cut the interview off before calling him out:
You're out of time on this day? Your show is four f–king hours long!…How about if Fred Armisen learned a Jon Kyl impression, would they cover it then?
But the big takeaway was a montage of clips of CNN anchors saying some form of the phrase "we'll have to leave it there," which served to make Stewart's point about CNN's refusal to call out anyone the way they did with the SNL fact check. The criticism of the fact check makes sense, and all cable news outlets could be questioned for not fact checking or calling out their guests often enough.
And that's the point – this is the same argument that can be made with every cable news network. Instead of broadening it, Stewart (and his editors) have put together a series of out of context clips that somhow prove a point. Instead, as we've mentioned in the past, the mischaracterizations and selective editing prove nothing here. "We'll have to leave it there," or something like it, is a phrase all anchors and hosts will say to end an interview. Is every host supposed to let their guest talk as long as they want? There are segments, and they have to end. Stewart has to do the same thing with his interviews that look like they could run a bit long.
A criticism of the SNL fact check could be it felt like a Daily Show segment. In the same way Stewart was able to put together his segment last night based on days, if not weeks, of CNN clips and research by writers and producers, so did CNN here. There's a major difference between an anchor calling out the guest for an incorrect statement while the interview is taking place and doing a fact check later. Maybe all news networks should essentially serve as ombudsmen of themselves and their guests, but no one does. It's disingenuous to tie the ridiculous SNL fact check to some premise that CNN let's their guests say whatever they want, until the CNN host is ready to "leave it there" unchecked.
Here's the Daily Show segment:
—–
» Follow Steve Krakauer on Twitter
Have a tip we should know? tips@mediaite.com