Dan Abrams and Alan Dershowitz Clash Over Whether Enquirer Faces Legal Danger For Squashing Trump Affair Story
On This Week on Sunday, ABC Chief Legal Analyst and Mediaite founder Dan Abrams and retired Harvard Law Professor and omnipresent cable news guest Alan Dershowitz clashed over whether the National Enquirer, by purchasing a story for the express purpose of killing it, could be open to legal danger outside of the protection the First Amendment.
The tabloid's parent, American Media Inc. (AMI), paid Playboy model Karen McDougal $150,000 for the paper to have exclusive rights to the story, apparently with the intent to kill the story and prevent it from coming out before the election; essentially buying McDougal's silence about Donald Trump having an extra-marital affair because it might hurt his chance at winning the election.
Former personal attorney to the president Michael Cohen secretly recorded conversations with Trump, prior to the election, discussing that arrangement. This Week host George Stephanopoulos asked Abrams whether AMI could face any legal exposure for the transaction.
"I would be very concerned if I were AMI," said Abrams. "I mean we've already seen the Department of Justice is not treating them the way they would not typically treat a news organizations, and you really have to wonder what's going to be next. I think if people at AMI are concerned, legally about–"
Dershowitz jumped in on the answer to state that any legal jeopardy to the company would tread on the First Amendment.
"This raises very serious First Amendment questions," he said. "When you start questioning legitimacy, and here's the quote, 'whether it's a legitimate press function', you're really beginning to crowd, to step on First Amendment rights. We know that newspapers buy stories all the time. Once government officials start raising questions about whether a press function is legitimate, that really begins to raise First Amendment questions. Serious ones."
Abrams replied, emphasizing the specific function or activity in question.
"But Alan, the question would be, was AMI making a deal with the president such that it had nothing to do with actually publishing stories, but instead making a deal to kill stories," he said. "That is not a First Amendment press function, and it is a question we have to ask. It's not just a question we should ask, it's a question we have to ask."
Dershowitz said "It's very much so. But it's very much a press function," during crosstalk.
He also added, "deciding what not to publish is as important a press function as deciding what to publish, and if–"
Abrams in turn jumped in and said "Not paying… no, no, not paying not to publish." Meaning paying someone in order to prevent publication. "That's different. Paying not to publish is not a choice not to publish," said Abrams. "That's paying money to make sure something doesn't get out there."
"That's right, ethically there's a big difference," Dershowitz said. "But under the first amendment – remember British newspapers, other newspapers, do pay, and once you start tinkering with the borders like this, we really have a serious question."
"Question is one thing. We should be asking the questions," Abrams replied. "But to somehow suggest that it's wrong to be asking questions of AMI is a vast overstatement."
Watch the clip above, courtesy of ABC News.
[Featured image via screengrab]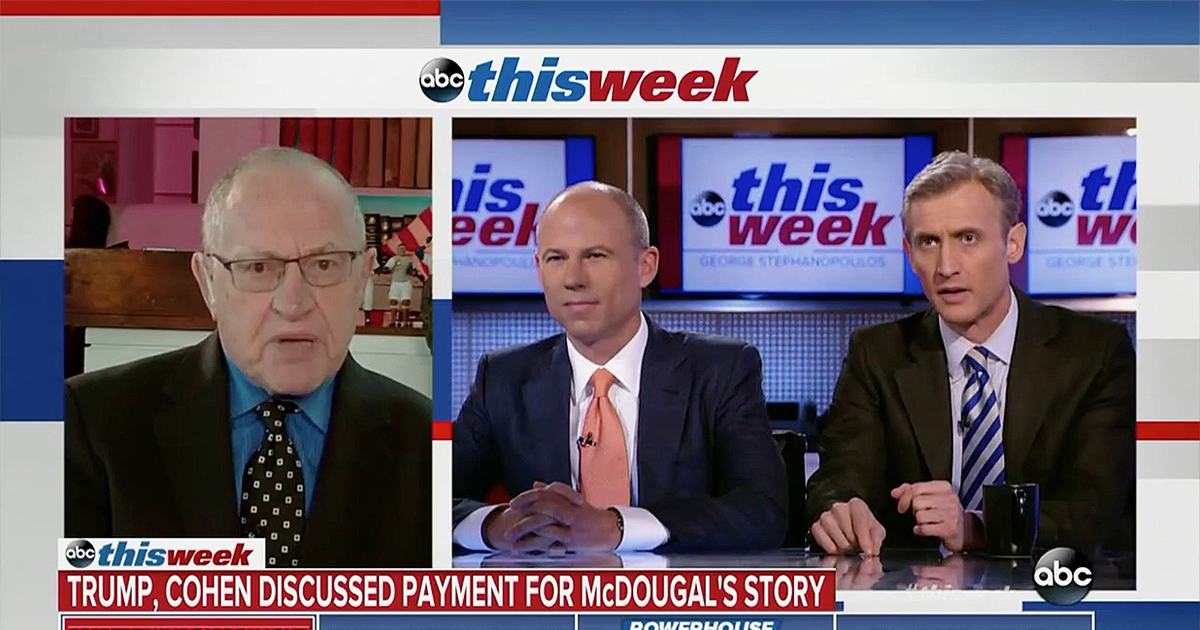 —
Follow Caleb Howe (@CalebHowe) on Twitter
Have a tip we should know? tips@mediaite.com