Dan Savage Says Of Congressional Republicans 'I Wish They All Were F**kin' Dead' On Real Time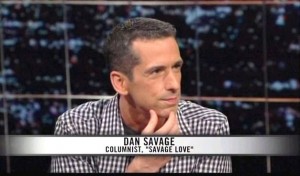 Real Time host Bill Maher thought he had a good soundbite when he compared Congressional Republicans to late Palestinian leader Yasser Arafat, but was quickly one-upped by "It gets better" LGBT activist Dan Savage, who said "Unfortunately not exactly like him. I wish they were all f**kin' dead."

Dan Savage's "It gets better" campaign has been hugely successful, even embraced by the President, and what people often lose sight of is the fact that those messages resonate with all kids, not just LGBT youth. All kinds of kids suffer, and die, from the kind of bullying that "It gets better" strives to put into perspective.
If that makes Savage angry, he's not alone, but anger isn't the problem. Properly focused anger can be a powerful motivator, and a spark to real change. The campaign to smear Obama administration safe schools czar Kevin Jennings made me very angry, but it didn't make me wish Sean Hannity dead, it made me wish him honest, and made me wish his viewers smarter.
It is Savage's correct life-or-death view of LGBT issues that motivated the campaign, but also that motivates him to do things which undermine that campaign, and its message. Whether it's wishing all of the Republicans in Congress were dead, or wiping flu boogers on phones as an undercover volunteer at a Republican campaign headquarters, when that view transforms from anger to hatred that Savage undercuts his ability to be an effective messenger, at least to those not already in the choir.
Even anger can trip you up, though. Friday night's Real Time was marked, not only by controversial statements, but by a weird hostility toward panelist Mark Cuban, who got attacked several times before he could make what were excellent points. The best of these was the fact that taxes, increased or cut, have little or no impact on job creation. Like Thom Hartmann has said many times, it is demand that creates jobs, and as Cuban said last night, it is innovation that creates demand.
Here's the clip, from HBO's Real Time:
Update: Savage apologized later Friday night on his blog. Here's an excerpt:
It was a stupid, rude, thoughtless remark. I regret it and I retract it and I apologize to anyone watching at home—particularly my father (!)—who may have heard me say it. I had a drink before the show—first and last time I've ever done that—but this wasn't a case of, "In vino, veritas."

This was a case of, "In vino, stupidtas."
Blaming it on the bottle is a pretty weak move, but at least he didn't do that "sorry if you were offended" thing.
Have a tip we should know? tips@mediaite.com