David Axelrod Defends WH On IRS Scandal: Wouldn't Have Happened 'If Anybody Political Was Involved'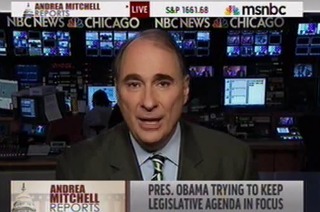 Former senior White House advisor and MSNBC contributor David Axelrod appeared on MSNBC with Andrea Mitchell on Tuesday where he defended and distanced the White House from the IRS's targeting of conservative groups with undue scrutiny. Axelrod noted that anyone "with a modicum of political sense" would not have done what the IRS did, implying that the White House could not be directly involved in the scandal.

Axelrod began by saying that events like raising home values and the stock market rally are more relevant to what average Americans really care about than the multiple scandals surrounding the White House that have dominated political coverage in recent weeks.
"Don't you think that the IRS is of great interest to the American people?" Mitchell asked. She noted that some reports have indicated that political charities on the liberal end of the political spectrum did not receive the same scrutiny that conservative groups did.
RELATED: ABC's Terry Moran On IRS Targeting Tea Party: 'A Truly Nixonian Abuse Of Power By The Obama Administration…'
"Well, that's not true, actually," Axelrod said. He asserted that progressive groups also received undue IRS scrutiny.
Axelrod went on to state that the IRS had an obligation to examine political charities applications for tax-exempt status, but noted that it was "unbelievably stupid" how the revenue service pursued that directive.
"If anybody political was involved this wouldn't have happened, because anybody with a modicum of political sense would have said, 'This is ludicrous. What are you guys doing?'" he noted.
Watch the clip below via MSNBC:
> >Follow Noah Rothman (@NoahCRothman) on Twitter
Have a tip we should know? tips@mediaite.com