David Weigel: Handling Of Souder Staffer Affair Shows GOP Is 'Better At Politics' Than Democrats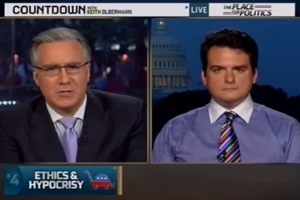 Silver lining for Republicans? Visiting Keith Olbermann tonight to talk about the details of pro-abstinence Republican Rep. Mark Souder's affair with a staffer, Washington Post blogger David Weigel noted that the relative damage compared to the Eric Massa affair shows that, perhaps, Republicans are better at cleaning up after themselves with these scandals.
Olbermann asks about the legality of the affair and the timeline of events that lead to the discovery that Souder was having an affair with a staffer, to which Weigel responds that the important detail in the story is that the woman was a staffer, which would be an ethical breach of concern to the Ethics Committee– "An affair, despite what happened with Bill Clinton—not illegal."
Despite the fact that the depth of the politically-related ethics issues is unclear, Weigel noted that the way the party reacted to the affair prevented the media storm from being quite as damaging. "It's really unclear how much contact he had with her, when he had it, so they tried to triage it right away," he noted, "This is another example of Republicans, in some ways, being better at politics than Democrats." He did also note that Election Day was helpful, and that the conservative desire to forgive private transgressions for politically aggressive public officials is nothing new, citing Senators John Ensign and David Vitter as examples.
It's perhaps not good news for the Republicans that they seem better at keeping scandal at bay, especially in light of the aforementioned Clinton scandal and, as noted in the below clip, the Eric Massa affair. But it is a thoughtful point since many would argue that the hypocrisy inherent in being a "family values" politician who betrays his family makes it more difficult for conservatives, who have a monopoly over family values as a political issue, to overcome sex scandals.
The Countdown segment below:

Have a tip we should know? tips@mediaite.com