Dem. Strategist Pushes Gun Laws Saying Navy Yard Personnel 'Just Stood Around and Watched'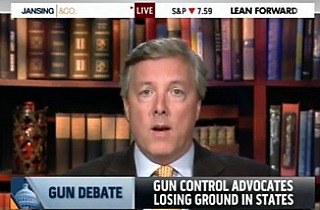 Some free advice for the National Rifle Association's CEO, Wayne LaPierre: all he has to do to get Democrats to give up their perennial push for stricter gun laws is to come out in favor of them. For some Democrats, a compulsive need to disagree with LaPierre, regardless of the substance of his statements, apparently has the power to override principled support for any legislative aim. Take, for example, Democratic political strategist Steve McMahon, who insisted Monday on MSNBC that the personnel at the Navy Yard just "stood around and watched" rather than respond to last week's attack on that facility.

McMahon dispensed this example of the rank partisanship that passes for political insight in response to LaPierre who, on Sunday's Meet the Press, said that "there weren't enough good guys with guns" at the Navy Yard. Demonstrating the depth of his powers of persuasion, McMahon responded to LaPierre by first calling him crazy, and then stupid.
"Wayne LaPierre talked about mental health; I think he ought to perhaps have — think a little bit more about that himself," McMahon began.
"If he's suggesting that there weren't guns in the Navy Yard when this gunman walked in and shot 13 people, he's crazy," he continued. "There were guns everywhere."
"This person walked in with an assault weapon and was able to get off enough rounds to kill 12 people instantly, or nearly instantly," McMahon added. "Everybody with the guns stood around and watched, or apparently were unable to stop him."
"The guns were present. It was a Navy facility," he added, contemptuously. "It's ridiculous."
Where to begin?
First, Navy Yard shooter Aaron Alexis did not use an "assault weapon" to kill 12. Forgiving the fact that "assault weapon" has no universally-understood definition, and is a term now broadly applied to guns which make gun control advocates uneasy, the only weapon that Alexis took to the scene of his September 16 massacre was a legally purchased Remington 870 pump action shotgun. The FBI reports that Alexis commandeered handguns from the bodies of some of his victims to continue his murder spree.
Secondly, the notion that "everybody with the guns stood around" is bizarre, untrue, and deeply offensive. As McMahon is no doubt aware, a February 25, 1992 Department of Defense directive, put in place under the administration of George H.W. Bush, prohibits most personnel on military bases from carrying loaded firearms.
This directive was reissued in April, 2011 – some 16 months after U.S. Army Maj. Nidal Hassan executed an eerily similar attack on a military base, in which he killed 13 people and wounded scores more.
Furthermore, as the BBC reported last week, the tactical response team which arrived at the scene of the attack, while it was ongoing and when casualties remained low, was "told to leave the scene by a supervisor instead of aiding municipal officers." On September 20, the BBC published an article noting that officials have not refuted the findings in that initial shocking report. The BBC also reported that the tactical team members who responded to that attack have not yet had their requests for temporary leave, to "grapple" with the gruesome attack, honored.
The tactical unit was prohibited from responding to the ongoing attack quickly, and the military personnel at the scene were largely unarmed. If you can somehow identify "American gun culture" as the culprit behind this deadly attack, given these circumstances, you may have a future as a Democratic campaign consultant and MSNBC contributor.
Before this massacre, even Democrats would freely acknowledge that America's mental health system is broken –- that is, they did before LaPierre agreed with them.
Watch the clip below via MSNBC:
[Photo via screen grab ]
— —
> >Follow Noah Rothman (@NoahCRothman) on Twitter
Have a tip we should know? tips@mediaite.com