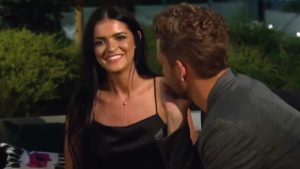 On Monday night's episode of The Bachelor, Raven Gates, a contestant from Arkansas told Nick Viall the story of how she and her ex boyfriend broke up. Her boyfriend was a doctor and one night, someone he worked with called Raven and told her he'd seen her boyfriend kissing someone else. She drove to his house, caught him in bed with the woman, naked, and took the woman's stiletto and beat her boyfriend with it. The story was explicit, but not necessarily more so than other things they've shown.
Unfortunately, if you were watching on KATV Little Rock, you didn't see this moment. At the beginning of the story, the station cut to a commercial break. When the show came back, the story was over. Viewers noticed:
so mad Arkansas put a commercial in where Raven told the story of walking in on her boyfriend….. #TheBachelor

— shelly (@shelly__ann__) January 24, 2017
Wait did only Arkansas tvs get cut out on that part…#TheBachelor

— Amanda Sexton (@AmandaMarie015) January 24, 2017
Did Arkansas censor #TheBachelor ?! Which little rock doctor had the clout to do that, might I ask?! #Ravenismyhero

— Caroline Groustra (@cdgroustra) January 24, 2017
On January 24th, According to the Washington Post, Raven tweeted that viewers would "have to find the clip elsewhere." The tweet seems to have been deleted, however.
Mark Rose, KATV's general manager told the Washington Post that it's really much simpler than that- it wasn't censorship, it was just a technical glitch. "I'm obviously not pleased [with] what happened," he said, and added, "We're trying to put things in place so it doesn't happen again."
[featured image via screen grab]
Have a tip we should know? tips@mediaite.com