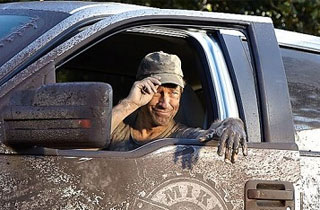 CNN announced today that Mike Rowe, the host of the Discovery Channel's hit series Dirty Jobs, would move over to the news network to host his own unscripted show.
In a press release, CNN said that Rowe, whose show saw him tackle "300 different jobs," would launch a brand new series called Somebody's Gotta Do It this fall, focusing on the stories of American workers and individuals. As they described it:
Rowe's new series Somebody's Gotta Do It, brings viewers face-to-face with men and women who march to the beat of a different drum. In each episode, Rowe visits unique individuals and joins them in their respective undertakings, paying tribute to innovators, do-gooders, entrepreneurs, collectors, fanatics–people who simply have to do it. This show is about passion, purpose, and occasionally, hobbies that get a little out of hand.
Rowe, who also serves as the narrator for Deadliest Catch, Wicked Tuna, and American Chopper, had been developing the series since the cancellation of Dirty Jobs back in 2012. "Of all the networks I spoke with, no one talked about a commitment to unscripted content and point-of-view programming with more passion than CNN. This is where Somebody's Gotta Do It belongs," said Rowe.
CNN is also introducing two other new original unscripted documentary shows: The Hunt with John Walsh, which will "tell stories of ongoing international criminal investigations in which the suspect is a fugitive at large," and The Jesus Code, a series "exploring the evidence of Jesus' existence by questioning the authenticity of sacred relics."
[CNN]
[Image via Profoundly Disconnected]
>> Follow Tina Nguyen (@Tina_Nguyen) on Twitter
Have a tip we should know? [email protected]