DNC & RNC Heads Clash Over President Obama's Economic Record On Face The Nation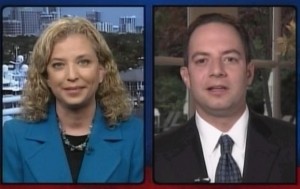 On Face the Nation today, the heads of the Democratic and Republican National Committees faced off on President Obama's record on the economy and the current race to replace him in the White House.
Bob Schieffer played a soundbite of President Obama's speech at the Congressional Black Caucus dinner last night, and asked DNC Chairwoman Debbie Wasserman-Schultz if his fiery speech was good politics and if it would attract more independents who want the president to be more aggressive.
Wasserman-Schultz insisted the audience at the event believed President Obama is dealing with problems grandfathered in from the Bush administration, and made an appeal for Republicans to get behind the American Jobs Act. RNC Chairman Reince Priebus responded by highlighting that all-important question voters ask themselves every presidential election: "Are you better off now than you were four years ago?"
Priebus highlighted rising unemployment and the size of the national debt, and challenged Wasserman-Schultz to name "one economic statistic in this country that Barack Obama has made better." Wasserman-Schultz shot back by continuing along the "Bush's fault" refrain, and argued that in the past few years of Obama's presidency, "we've turned a corner" and cycled through a list of economic achievements that have been made despite the grim reality the United States faces.
Priebus saw this as a decidedly different tactic for Democrats in this election cycle.
"It sounds like the new slogan is no longer 'Hope and Change,' it's 'Hey, It Could Have Been Worse.' A great bumper sticker, Debbie, I hope it works for you, but the reality is that Americans are hurting in this country… The president is upside down in your home state of Florida, he's upside down in battleground states, and guess what? He's upside down in California, and he's losing Massachusetts because Americans understand that this president hasn't cut it and he's promised the world and he's delivered nothing."
Schieffer shifted the conversation to the current Republican primary race, specifically Herman Cain's victory in the Florida straw poll over frontrunners Mitt Romney and Rick Perry. Priebus did not express his support for everyone, but insisted the Republicans would eventually settle on an "articulate, intelligent alternative" to President Obama.
Unlike many Republicans, Priebus is content with the current field of candidates, and there is a lot of excitement on the GOP's side in this race. Wasserman-Schultz suggested that it doesn't matter which Republican gets the nomination because "they're all the same" and "they can't move too the right far enough." And as for President Obama's lagging poll numbers in Florida, she argued that ultimately, the president could win the state because of his positions on Social Security and other issues important to voters there.
Watch the video below, courtesy of CBS News:
Have a tip we should know? tips@mediaite.com
Josh Feldman - Senior Editor