Donald Trump Hits Back At Robert De Niro: 'Not The Brightest Bulb On The Planet'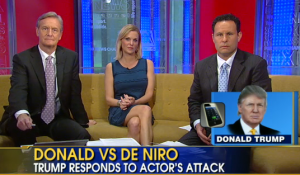 Potential Republican candidate for President Donald Trump made his weekly appearance on Fox & Friends this morning and although he continued demanding to see President Obama's birth certificate, he actually liked the President's initiative to investigate oil companies over high gas prices. Yet Trump wanted to know why isn't Obama talking about OPEC? This time around though, Trump's wittiest insults were saved for Oscar winner Robert De Niro, who slammed Trump over the weekend and may refrain from doing so again after hearing Trump's comeback.
Trump's response to De Niro:
"Well he's not the brightest bulb on the planet. I've been watching him over the years and I like his acting, but you know in terms of when I watch him doing interviews and various other things, we're not dealing with Albert Einstein. And he can say what he wants, but the fact is that this guy has not revealed his birth certificate and a lot of people agree with me."
Whether Mr. "Are you talking to me" De Niro will respond to such a verbal assault should be interesting to see. Although Trump wasn't full of criticism, as he did find one interview over the weekend that he thought was "brilliant" and "mandatory viewing." Trump was referring to the interview with Reverend Franklin Graham, which Trump found to be spiritual and important. And Trump even admitted the fact that Graham had nice things to say about him, may have had a slight influence on his positive reaction.
Watch the clip from Fox News:

Have a tip we should know? tips@mediaite.com