NBC's Richard Engel Dons Gas Mask During Dramatic Live Report On Turkey Protests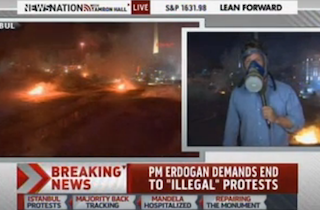 The protests in Istanbul, Turkey escalated on Tuesday, as riot police clashed with protestors in Taksim Square. As police fired tear gas and used a water cannon, protestors responded with fireworks and throwing stones. In the midst of the dramatic chaos, NBC's Richard Engel reported live from the scene — even donning a gas mask midway through the interview.
Engel explained that Taksim Square is generally the "tourist hub" of the city, in stark contrast to the images seen today. Flames could be seen in the background and the sound of fireworks was audible, as MSNBC host Tamron Hall asked whether Engel needed a minute to put on his gas mask. Shortly after, Engel took her up on that offer — while Hall brought in former State Department Officer Joel Rubin to discuss the situation.
"The United States is almost dependent on Prime Minister Tayyip Erdogan," Engel elaborated, his voice muffled by the mask. "He's the last reliable, powerful friend that the United States has in this part of the region."
The tear gas, he said, "is being fired at such intensity that it is even coming up to the upper balconies" of homes and businesses. (Engel himself was standing on one.) "I just looked over my shoulder, and there is almost no one in the Square right now," he added, describing fights with tear gas and water cannons that appeared to be spilling out of that immediate area.
Last month, the protests stemmed from a demonstration by those hoping to preserve a park, which was to be demolished for redevelopment. From there it snowballed into a broader anti-government protests. Demonstrators have cited "a litany of complaints against the government, including its vast urban development plans in Istanbul, a crackdown on alcohol and Mr. Erdogan's leadership style, which they see as increasingly dismissive of the views of those who did not vote for him."
The heavy-handed response from police came after roughly 10 days of demonstrations and Erdogan's demand that protesters clear the area.
Engel's report below, via MSNBC:

Have a tip we should know? tips@mediaite.com