DSCC Chair Sen. Bob Menendez: Working With GOP Like 'Negotiating With Terrorists'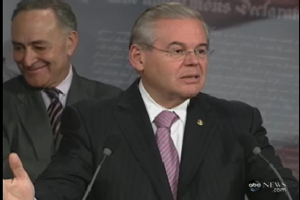 The fight over extending the Bush tax cuts has created an atmosphere of conflict and exasperation not atypical to Washington among Congressmen, and on this Saturday session, the pressure is already creating buzzworthy soundbites. The latest off-color comment comes from New Jersey senator and Democratic Senatorial Campaign Committee chair Robert Menendez, who, in describing his work with Republicans, said it something like negotiating with "terrorists."
As ABC News' Johnathan Karl reports, he didn't really compare the GOP to terrorists themselves but, rather, the process of talking to them to that of talking to terrorists, and arguing the Democrats should not allow themselves to be "held hostage" by the Republican caucus:
"Do you allow yourself to be held hostage and get something done for the sake of getting something done, when in fact it might be perverse in its ultimate results? It's almost like the question of do you negotiate with terrorists."
Menendez's spokesperson later told ABC that the quote was taken "out of context," and that "the critical point for middle class Americans remains that Republicans have chosen to jeopardize tax cuts for every middle class family in order to guarantee an average tax cut of $104,000 for each millionaire." And Senator Menendez does have that "almost" in there to soften the blow. With the tax struggle on the fast track to becoming the top story of next week's news cycle, it will be difficult for Menendez to avoid that soundbite, however, especially when the Republicans have a few words on this matter to sweep under the rug themselves.
Menendez's comments via ABC News below:

Have a tip we should know? tips@mediaite.com