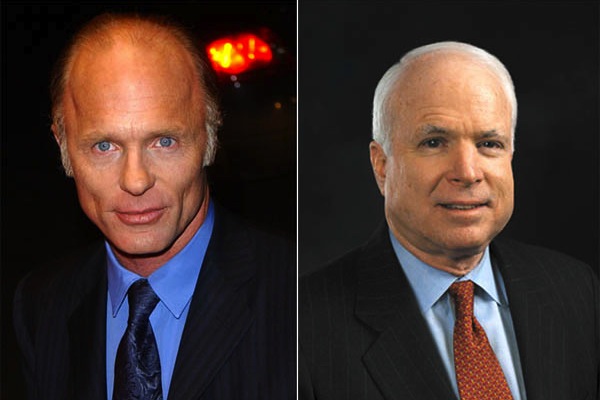 While we still have no idea who's running against Barack Obama in the 2012 election, the candidate announcements in the Hollywood 2008 election are coming in fast and furious! Just a few weeks ago, Julianne Moore was announced as Sarah Palin in the upcoming HBO film Game Change about the election and, since she looks basically nothing like Palin except in the broadest of categories, the only thing we could tell about her John McCain-playing counterpart was that he'd probably be older and probably be balding. But who could it be? Robert Duvall? Gene Hackman? Bruce Willis? Well, now we know as HBO has announced the casting of Ed Harris in the role.
The movie, of course, is based on the book Game Change: Obama and the Clintons, McCain and Palin, and the Race of a Lifetime by Mark Halperin and John Heilemann which focussed on all aspects of the campaign but got some particularly good moments from the fractious relationship between Palin and McCain (and his staff). The adaptation is set to be written and directed by Danny Strong and Jay Roach respectively who also helmed the quite good HBO movie Recount about the 2000 election. (I guess John Kerry was even too boring to get his own movie).
Harris does kind of look like McCain. He's certainly a better fit than Moore as Palin which is nearly a "John Wayne as Genghis Khan" type resemblance. However, they're both great actors and these should be fun, juicy roles so we're not worried.
Now, though, we eagerly await the casting of Obama himself. I hear they've got a very specific casting notice out for "a black guy."
Related: Our own Colby Hall gave his dream cast for the movie here.
(h/t The Playlist)
Have a tip we should know? tips@mediaite.com