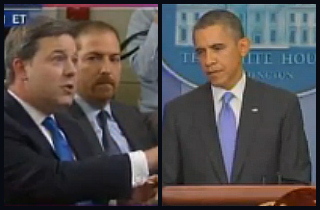 During an end of the year press conference on Friday, Fox News' Chief White House Correspondent Ed Henry grilled President Barack Obama regarding the National Security Agency's surveillance programs and how the administration is considering reforming those programs. Henry probed Obama over his insistence in the summer that his administration had struck "the right balance" between security and privacy concerns.

Henry began by asking Obama what changed from the summer, when he said he "struck the right balance" to today when his administration is prepared to adopt reform recommendations of a panel which investigated NSA practices.
"Is it another example of what Julie [Pace] was getting at with the credibility of the American people," Henry said. "Just like health care, if you like your plan, you can keep it. On surveillance, you looked the people in the eye and said we have the right balance. And, six months later, you're saying maybe not."
Obama insisted that some of the means that the NSA uses can be shifted to telephone companies. "That might cost more," Obama said. "There might need to be different checks on how those requests are made."
"I understand it's a tough job," Henry said, before noting that the Director of National Intelligence James Clapper misled Congress when he said that the NSA was not collecting information on Americans. "Doesn't that undermine the public trust?" he asked.
Obama replied that his statements in June are "entirely consistent" with what he said today. "There continues not to be evidence that the particular program had been abused in how it was used," Obama said. However the president noted that the benefits of this program "may be outweighed" by the public's fears over its abuse.
Watch the clip below via Fox News Channel:
[Photo via screen grab ]
— —
> >Follow Noah Rothman (@NoahCRothman) on Twitter
Have a tip we should know? tips@mediaite.com