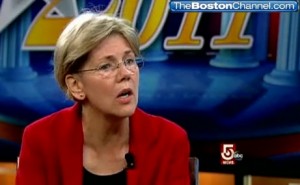 Karl Rove's Crossroads GPS PAC has released a new ad, backed by a huge ad buy, attacking Massachusetts candidate for US Senate Elizabeth Warren by tying her to the Occupy Wall Street movement's most extreme elements. In an interview with a Boston ABC affiliate, Warren responded to the attack by refusing to disavow the movement, or to buy into the notion that support for its principles means support for the actions of all participants.
Warren's campaign has been warning supporters, for several days, that a Rove attack, backed by a major ad buy, was imminent. The Boston Globe reported yesterday that Crossroads GPS released its ad with a $596,000 ad buy, which underscores the reality of political fundraising in post-Citizens United America. Despite an impressive fundraising haul in just a few weeks of the third quarter, Warren will have to contend with independent groups that can spend unlimited amounts of money to ensure the reelection of incumbent Sen. Scott Brown (R-MA). Despite the fact that Warren doubled Brown's third quarter take, in half the time, groups like Rove's illustrate the way the deck is stacked against a populist candidate.
The ad itself is political attack boilerplate, with cheesily ominous music, a dourly concerned voiceover, and the requisite grainy black and white video footage, all in an effort to tie Warren to a cartoon villain version of the populist protest movement that has become a cultural fixture.
In an interview with WCVB Boston's On The Record, Warren reacted to the ad by resisting interviewer Janet Wu's repeated attempts to create a false "in for a penny, in for a pound" choice. Asked if it was fair for Crossroads to link her so closely with OWS, Warren replied, "It's fair to say that I've been protesting Wall Street for years and years."
Warren described some of her efforts in Washington, then said, "So, yeah, I've been fighting Wall Street for a very long time."
"So these are your people?" Wu asked, and got pretty much the same response, then asked, "So their mission, their philosophy, their tactics, you all agree with?"
"Let's be clear," Warren replied, "Everybody has to follow the law. There's no exception on that. More important, though, this is an independent, organic movement. It's its own voice. It will go in its own direction."
Although there have been some very positive early signs for Warren in this race, including (in a way) the fact that Rove's group felt compelled to drop over half-a-million bucks on a Senate race a full year before the election, this attack, so early on, shows that Elizabeth Warren has a steep climb ahead of her.
Here's that segment of Warren's interview with WCVB:(the full interview can be viewed here)
This is an opinion piece. The views expressed in this article are those of just the author.