Emails Reveal Al Qaeda-Linked Militants Took Credit For Benghazi Attack Hours After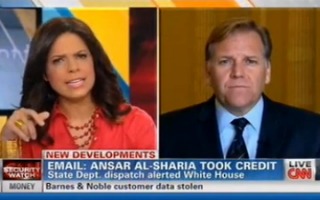 On Wednesday, Starting Point host Soledad O'Brien took a look at emails revealing that the American government knew about a link between a terrorist group and the attack on the American Diplomatic Mission in Benghazi.
The emails, which were sent between 4 and 6 p.m. ET on the day of the attack, relay information via the American embassy in Tripoli, including the fact that the militant group Ansar Al-Sharia claimed responsibility for the deadly attack via social media. O'Brien spoke with House Intelligence Committee chairman Rep. Mike Rogers to find out more.
Rogers pointed out that the emails had not mentioned protests or demonstrations, which had been noted by the White House and, subsequently, media outlets as being linked to the attacks as a result of the film Innocence of Muslims. When asked how the group claiming responsibility is tied to Al Qaeda, Rogers explained that there is a "core leadership" within Al Qaeda — to which Osama bin Laden had belonged. Soon, other groups began to join. In about 2006, for example, Al Qaeda in the Maghreb joined Al Qaeda and pledged its allegiance to the terrorist network's core group — it is, he explained, just one of many smaller group who subscribe to the principals of Al Qaeda's core leadership and share their goals and tactics. Ansar Al-Sharia, he continued, is an extremist Jihadist group that has pledged allegiance to and an affiliation with Al Qaeda.
O'Brien then read from articles from both the LA Times and the WSJ, reporting that early intelligence had described the attacks as being the result of spontaneous demonstrations rather than full-fledged, pre-planned acts of terrorism. Rogers chalked this up to people "latched on to what they wanted to hear" from the intelligence that was provided.
Watch, via CNN:
Have a tip we should know? tips@mediaite.com